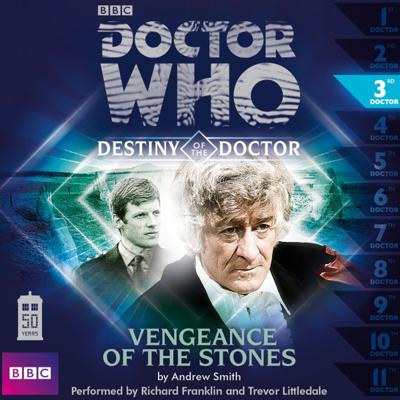 Rating
Votes
10

6%

3
9

4%

2
8

8%

4
7

39%

20
6

27%

14
5

10%

5
4

4%

2
3

2%

1
2

0%

0
1

0%

0
Average Rating

6.7

Votes

51
Synopsis

The Doctor discovers a link to the recumbent stone circles that are plentiful in this part of Scotland. The stones are thousands of years old, and are soon revealed to hold a terrible secret. Then Mike Yates disappears, abducted by an alien race that has a grievance with humanity. Their intention is to harness the power of the stones in order to take their revenge. For the Doctor and the Brigadier, the race is now on to save their new friend Mike and the entire planet Earth.
Has Prerequisite Story
2 out of 21 (9.5%) raters say this story requires a previous story.
Doctor(s)
Cast
Richard Franklin (Mike Yates)
Trevor Littledale (Garlin)
Writer(s)
Andrew Smith
Director(s)
John Ainsworth
Purchase From: