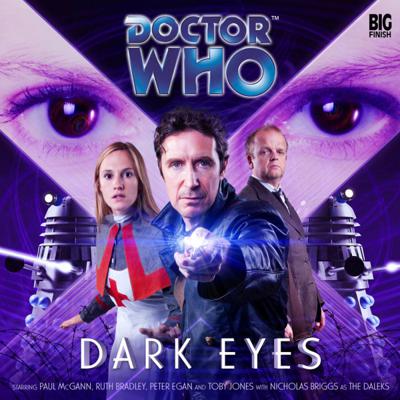 Rating
Votes
10

15%

15
9

10%

10
8

31%

32
7

26%

27
6

10%

10
5

4%

4
4

2%

2
3

1%

1
2

1%

1
1

1%

1
Average Rating

7.6

Votes

103
Synopsis
'Subject is called Molly O'Sullivan. An inhabitant of Earth. Born Earth year 1891. Has travelled in space and time with Time Lord known as the Doctor.'

With Straxus and his TARDIS destroyed, the Doctor and Molly have tracked the mysterious 'X' to the planet Srangor. It is here that the truth of the threat to the universe will finally be revealed.

What is the Dalek Time Controller's ultimate plan? What exactly is the space-time projector? Who will survive this epic battle for survival?
Has Prerequisite Story
45 out of 45 (100.0%) raters say this story requires a previous story.
Doctor(s)
Companions
Enemies
Cast
Paul McGann (The Doctor)
Ruth Bradley (Molly O'Sullivan)
Peter Egan (Straxus)
Toby Jones (Kotris)
Tim Treloar (Lord President)
Laura Molyneaux (Isabel Stanford)
Natalie Burt (Sally Armstrong)
Ian Cullen (Nadeyan)
Jonathan Forbes (Dr Sturgiss)
Alex Mallinson (Private Tucker)
Beth Chalmers (Matron/Kitty Donaldson/Nurse Harriet)
John Banks (Private Hodgeson)
Nicholas Briggs (The Daleks)
Writer(s)
Director(s)
Nicholas Briggs
Purchase From: