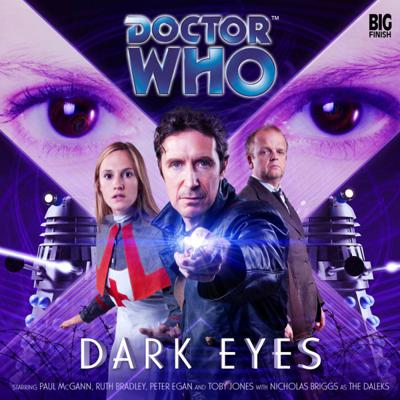 Rating
Votes
10

9%

9
9

24%

25
8

29%

30
7

25%

26
6

8%

8
5

3%

3
4

0%

0
3

1%

1
2

1%

1
1

0%

0
Average Rating

7.8

Votes

103
Synopsis
Something happened when Molly O'Sullivan was just two years old, and the Doctor thinks it's high time they found out exactly what it was.

Meanwhile, the Daleks are fully activating their Temporal Chamber. And while the Doctor and Molly get closer and closer to the terrible truth, the nature of reality itself seems to be in question.
Has Prerequisite Story
45 out of 45 (100.0%) raters say this story requires a previous story.
Doctor(s)
Companions
Enemies
Cast
Paul McGann (The Doctor)
Ruth Bradley (Molly O'Sullivan)
Peter Egan (Straxus)
Toby Jones (Kotris)
Tim Treloar (Lord President)
Laura Molyneaux (Isabel Stanford)
Natalie Burt (Sally Armstrong)
Ian Cullen (Nadeyan)
Jonathan Forbes (Dr Sturgiss)
Alex Mallinson (Private Tucker)
Beth Chalmers (Matron/Kitty Donaldson/Nurse Harriet)
John Banks (Private Hodgeson)
Nicholas Briggs (The Daleks)
Writer(s)
Director(s)
Nicholas Briggs
Purchase From: