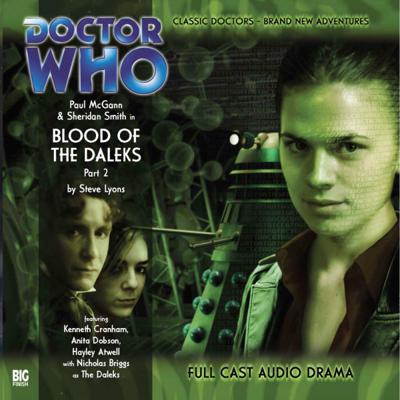 Rating
Votes
10

8%

11
9

12%

17
8

45%

64
7

22%

32
6

10%

14
5

2%

3
4

1%

1
3

0%

0
2

0%

0
1

1%

1
Average Rating

7.7

Votes

143
Synopsis
"The crashed ship. The one Tom Cardwell saw all those years ago. And you borrowed its technology, didn't you? Maybe even found a Dalek or two in the wreckage. Dead, but intact. And you began to turn human beings into creatures like them. You did that? I'm right, arent I?"
Has Prerequisite Story
36 out of 37 (97.3%) raters say this story requires a previous story.
Doctor(s)
Companions
Enemies
Cast
Paul McGann (The Doctor)
Sheridan Smith (Lucie Miller)
Katrina Olsson (Headhunter)
Anita Dobson (Eileen Klint)
Kenneth Cranham (Tom Cardwell)
Hayley Atwell (Asha)
Gerry O'Toole (Lowell)
Nicholas Briggs (The Daleks)
Writer(s)
Director(s)
Nicholas Briggs
Purchase From: