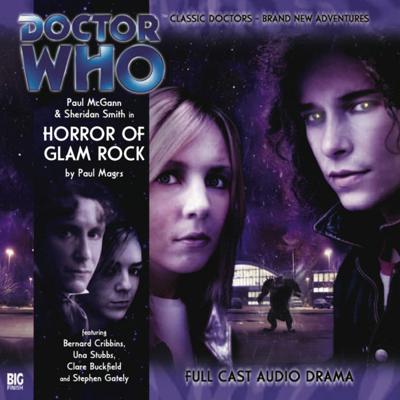 Rating
Votes
10

12%

17
9

8%

11
8

32%

46
7

30%

43
6

11%

16
5

1%

2
4

3%

4
3

1%

2
2

1%

2
1

1%

1
Average Rating

7.4

Votes

144
Synopsis
The Doctor and Lucie go glam when the TARDIS makes an unexpected landing in 1974. Slade, The Sweet and Suzi Quatro are Top of the Pops - and brother-and-sister duo The Tomorrow Twins will soon be joining them, if starmaking Svengali Arnold Korns has his way. But will their dreams turn to dust at a service station somewhere on the M62, besieged by a pack of alien monsters?
Has Prerequisite Story
5 out of 28 (17.9%) raters say this story requires a previous story.
Doctor(s)
Companions
Cast
Paul McGann (The Doctor)
Sheridan Smith (Lucie Miller)
Bernard Cribbins (Arnold Korns)
Una Stubbs (Flo)
Stephen Gately (Tommy Tomorrow)
Clare Buckfield (Trisha Tomorrow)
Lynsey Hardwick (Pat)
Katarina Olsson (The Headhunter / The Only Ones)
Writer(s)
Director(s)
Barnaby Edwards
Purchase From: