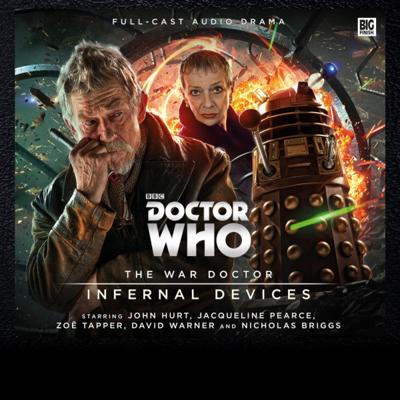 Rating
Votes
10

9%

4
9

28%

12
8

40%

17
7

19%

8
6

5%

2
5

0%

0
4

0%

0
3

0%

0
2

0%

0
1

0%

0
Average Rating

8.2

Votes

43
Synopsis
In a time of war, every means of victory must be explored. In the Time War, the unthinkable must be thought, and neither side can afford to be squeamish about their methods.

When the destruction of an obscene weapon leads to the Time Lord once known as the Doctor uncovering a secret Gallifreyan initiative, he cannot believe what is being considered.

Should victory be sought at any cost? Or are there worse possibilities than losing to the Daleks..?
Has Prerequisite Story
3 out of 28 (10.7%) raters say this story requires a previous story.
Doctor(s)
Enemies
Cast
John Hurt (The War Doctor)
Jacqueline Pearce (Cardinal Ollistra)
David Warner (Shadovar)
Jamie Newall (Co-ordinator Jarad)
ZoŽ Tapper (Collis)
Robert Hands (Captain Solex)
Oliver Dimsdale (Commander Trelon)
Laura Harding (Navigator Valis)
Barnaby Kay (Commander Thrakken)
Jaye Griffiths (Daylin)
Tim Bentinck (General Kallix)
Tracy Wiles (Commander Barnac)
and Nicholas Briggs as the Daleks
Writer(s)
Director(s)
Nicholas Briggs
Purchase From: