Review By
komodo
7/20/14 9:06 pm
1 out of 1 found this review helpful.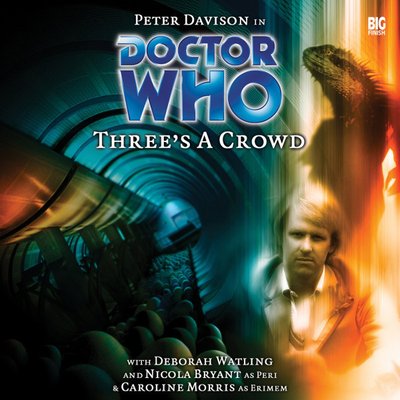 7
Reviewer Says:
Previous stories required!
This one begins with a discussion that follows on from Roof of the World (10 releases earlier) having not listened to that one, I felt a little alienated, but we were also introduced to an interesting set of characters in an odd dystopian world. They held my attention when Peri and Erimem failed.

Its a great study of a broken culture and how they interact, not only with each other, but also with the unknown.

By the second half a race of rubber suit monster has turned this into a base under siege story. Many people are critical of the monsters, but I think that as the story is primarily about the humans, it is fine to have one dimensional rubber suiters as villains.

Mostly this story is about Peri and how she deals with people in an odd situation as well as being a growth piece for Erimem.

For most of the story, Doctor and companions are separated giving us three or four story lines at once. Its a lot to take in, but worth it.
1 out of 1 found this review helpful.
Quickie story, arguably a little too short for the interesting plot points it lays out, but I thought it worked very well and the soundscape was very effective. Nice use of real historical elements (Howard Carter, before he discovers the tomb of Tutankhamun) meshed with the fantastical/sf elements. There's a plot twist concerning the character Lucy Adams plays that ups the interest-level of the story, but I won't reveal it in this review to avoid spoiling it for you. A story I would happily listen to again, recommended.
3 out of 3 found this review helpful.
--- THIS IS A TEST REVIEW FROM THE WEBMASTER ---

(I'm not much of a reviewer so this will probably be my only one.)

Davros was the first story I purchased to test the Big Finish waters. For years I had been longing for new (classic) Doctor Who content, but I never had the time to read any of the books. Little did I know that Big Finish existed in 1999. I only happen to come across the Big Finish website in 2006. At the time Big Finish didn't offer purchasing from their website, so I searched for their Davros story and ended up on the Amazon UK site. Davros was always my favorite Doctor Who villain, so that is where it began for me.

Not having heard a Big Finish audio before I wasn't really sure what to expect. When I hit play, Davros immediately started speaking. I was hooked from that moment on.

The story was high quality. The acting was incredible. But I think the most important aspect was the high quality of the ambient sounds. It truly brought me into the story.

Terry Molloy (my favorite Davros actor) and Colin Baker were at their finest. What shocked me the most was my dislike for the 6th Doctor on television. Big Finish truly allowed Colin to take the part and make it his own. Colin is now my favorite Doctor.

I'm not going to mention any story specifics. I won't ruin for those who have not heard it. If you like Davros and enjoy audio drama, this is the story for you.

If I hadn't discovered Big Finish and didn't enjoy Davros, this website probably would not exist.

I included the other stories that helped solidify Big Finish's grip on my wallet to this day. Thank you Big Finish!!!