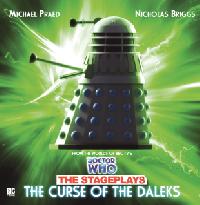 Rating
Votes
10

11%

4
9

11%

4
8

21%

8
7

16%

6
6

13%

5
5

13%

5
4

11%

4
3

0%

0
2

3%

1
1

3%

1
Average Rating

6.7

Votes

38
Synopsis
A special audio adaptation of the Doctor Who stage-play from the 1960s.

The space ship Starfinder is taking two dangerous criminals for trial on Earth. En route, they crash through a meteor storm and have to make an emergency landing on Skaro – the planet of the dreaded Daleks. But Captain Redway and his faithful crew don't anticipate any trouble. After all, the Daleks were defeated fifty years ago and now they are completely inactive. But when a crate full of mysterious devices is discovered and the Daleks start to come back to life, it becomes clear that there is a traitor amongst the Starfinder's crew… A traitor intent on reactivating the power of the Daleks!
Has Prerequisite Story
0 out of 8 (0.0%) raters say this story requires a previous story.
Cast
Michael Praed (Ladiver)
Patric Kearns (Captain Redway)
Beth Chalmers (Marion Clements)
Nick Wilton (Rocket Smith)
James George (Bob Slater)
John Line (Professor Vanderlyn)
Derek Carlyle (Harry Sline)
Glynn Sweet (Dexion)
Denise Hoey (Ijayna)
Nicholas Briggs (Narrator / Daleks)
Writer(s)
David Whitaker,Terry Nation,Nicholas Briggs
Director(s)
Nicholas Briggs
Purchase From: