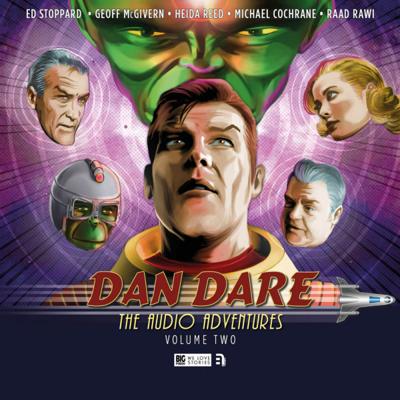 Rating
Votes
10

0%

0
9

100%

1
8

0%

0
7

0%

0
6

0%

0
5

0%

0
4

0%

0
3

0%

0
2

0%

0
1

0%

0
Average Rating

9.0

Votes

1
Synopsis
After a sequence of near non-stop adventures Dare, Digby and Peabody find themselves in a strange limbo of paranoid calm. Whilst there's been no sign of the Mekon anywhere in the solar system, Dare is certain Earth hasn't seen the last of the evil alien. Mysterious spaceship disappearances near Venus, an Academy student accidentally launching a prototype new spacecraft, and a floating prison cell in space... reveal themselves as all part of the Mekon's latest plan to defeat his arch-enemy Dan Dare once and for all. The first season of Dan Dare concludes with daring space action, fearless heroics and the revelation of devastating secrets concerning Space Fleet...
Has Prerequisite Story
0 out of 0 (0%) raters say this story requires a previous story.
Cast
Ed Stoppard (Dan Dare)
Geoff McGivern (Digby)
Heida Reed (Professor Peabody)
Michael Cochrane (Sir Hubert)
Raad Rawi (The Mekon) Amy Humphreys (Eko)
Dean Harris (George Bryan)
Dianne Weller (Onboard Computer)
Bijan Daneshmand (Sondar)
Jonathan Rhodes (Blasco)
Nicholas Briggs (The Vora)
Matthew Turmaine (The Prime Minister)
Diane Spencer (Flight Control)
Fiona McAlpine (Maxwell)
Robert G Slade (Old Timer)
Noof McEwan (Cadet Flamer Spry)
Alistair Lock (Treen Captain)
Writer(s)
Colin Brake
Director(s)
Andrew Mark Sewell
Purchase From: