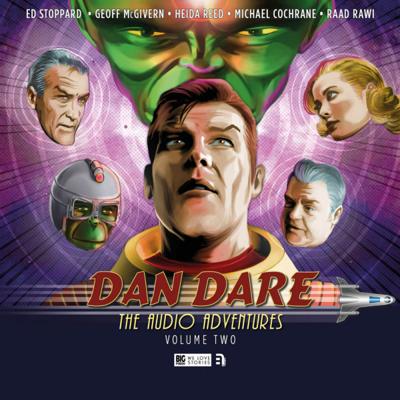 Rating
Votes
10

0%

0
9

0%

0
8

0%

0
7

100%

1
6

0%

0
5

0%

0
4

0%

0
3

0%

0
2

0%

0
1

0%

0
Average Rating

7.0

Votes

1
Synopsis
As work begins to rebuild planet Earth after the devastation of the robot invasion, Dare and his friends in Space Fleet remain vigilant, certain that it is only a matter of time before the Mekon launches a fresh attack. When the wreck of the Nautilus - an experimental ship lost over a decade before - appears in orbit of the moon, Dare, Digby and Peabody are sent to investigate. They find the ship and its crew were destroyed by advanced alien weapons. All clues lead them to Saturn's moons. With Earth still vulnerable our heroes must journey to an unknown world - to discover who sent the Nautilus back, not realising that for once the source of their latest conflict comes from a lot closer to home. Not all would-be conquerors of planet Earth are alien...
Has Prerequisite Story
0 out of 0 (0%) raters say this story requires a previous story.
Cast
Ed Stoppard (Dan Dare)
Geoff McGivern (Digby)
Heida Reed (Professor Peabody)
Michael Cochrane (Sir Hubert)
Raad Rawi (The Mekon) Amy Humphreys (Eko)
Dean Harris (George Bryan)
Dianne Weller (Onboard Computer)
Bijan Daneshmand (Sondar)
Jonathan Rhodes (Blasco)
Nicholas Briggs (The Vora)
Matthew Turmaine (The Prime Minister)
Diane Spencer (Flight Control)
Fiona McAlpine (Maxwell)
Robert G Slade (Old Timer)
Noof McEwan (Cadet Flamer Spry)
Alistair Lock (Treen Captain)
Writer(s)
Patrick Chapman
Director(s)
Andrew Mark Sewell
Purchase From: