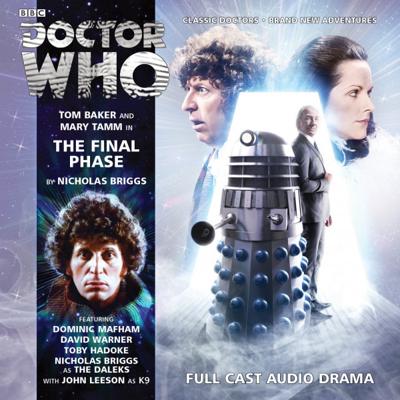 Rating
Votes
10

8%

5
9

5%

3
8

21%

13
7

32%

20
6

18%

11
5

8%

5
4

5%

3
3

0%

0
2

2%

1
1

2%

1
Average Rating

6.9

Votes

62
Synopsis

Cuthbert's plan for the Proxima System is reaching its final phase.

The Doctor and Romana have been separated. The Doctor is aiding the Proximan fight-back. Romana and K9 are prisoners of the Daleks.

And as the countdown to the opening of the Quantum Gateway begins, the Daleks reveal their true intentions.
Has Prerequisite Story
35 out of 37 (94.6%) raters say this story requires a previous story.
Doctor(s)
Companions
Cast
Tom Baker (The Doctor)
Mary Tamm (Romana)
John Leeson (K9)
David Warner (Cuthbert)
Toby Hadoke (Mr Dorrick)
Nicholas Briggs (The Daleks)
Writer(s)
Nicholas Briggs
Director(s)
Nicholas Briggs
Purchase From: