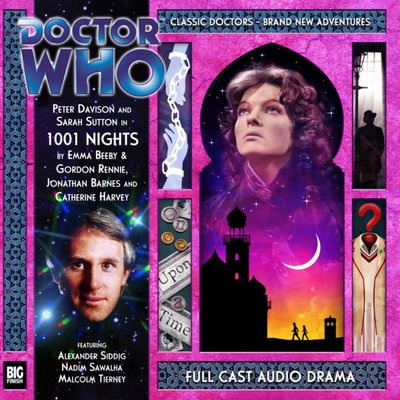 Rating
Votes
10

3%

2
9

14%

9
8

31%

20
7

29%

19
6

15%

10
5

6%

4
4

0%

0
3

0%

0
2

2%

1
1

0%

0
Average Rating

7.3

Votes

65
Synopsis
A long time ago, two travelers came from far away...

In the perfumed palace of an omnipotent Sultan, a girl must tell stories to keep the man she cares about from a cruel and horrible death. She spins tales of distant lands she has visited with a mysterious traveler, of fabulous creatures and fantastic adventures – and of a blue box that can travel in time and space.

Meanwhile, in the dungeons below the throne room, there lurks a secret which will bring down the kingdom – perhaps even the universe.

Can the Doctor and Nyssa escape from this never-ending story before the final chapter spells their end?


*This is an anthology release but there is no information on the Big Finish website of story titles or which writer(s) wrote the specific stories.
Has Prerequisite Story
0 out of 22 (0.0%) raters say this story requires a previous story.
Doctor(s)
Companions
Cast
Peter Davison (The Doctor)
Sarah Sutton (Nyssa)
Alexander Siddig (Sultan)
Nadim Sawalha (Old Man)
Teddy Kempner (Nazar)
Kim Ismay (Lottie/Woman Stallholder)
Malcolm Tierney (Gantha/Warder)
Debbie Leigh-Simmons (Elizabeth Spinnaker/Bessie/Crying Woman)
Christopher Luscombe (Alien Psychiatrist/Balladeer)
Oliver Coopersmith (Hill/Archie)
Director(s)
Barnaby Edwards
Purchase From: