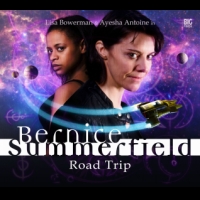 Rating
Votes
10

8%

2
9

19%

5
8

27%

7
7

42%

11
6

0%

0
5

4%

1
4

0%

0
3

0%

0
2

0%

0
1

0%

0
Average Rating

7.8

Votes

26
Synopsis

Bernice Summerfield needs a job. Professor Harry Burtenshaw thinks she's just the ticket. But with the people of Lyndyaz celebrating their most important festival, and the ruling Dominicci Corporation maintaining control with draconian glee, has Bernice turned up in the wrong place at the wrong time?
Has Prerequisite Story
7 out of 8 (87.5%) raters say this story requires a previous story.
Cast
Lisa Bowerman (Bernice Summerfield)
Ayesha Antoine (Ruth)
Arthur Darvill (Doctor Jared Jones)
Roger Hammond (Professor Harry Burtenshaw)
Jacqueline King (Mother Aurelia)
Nigel Lambert (Bishop Synesius)
Anjli Mohindra (Gabriella Dominicci)
India Fisher (Doctor Carol Bauer)
Ian H Watkins (Professor Melville Trout)
Liam Cooper (CRS Officer)
Paul Jones (The DJ)
Robbie Webster (Federico Dominicci)
Marcus Harris (Brian)
Charlie Langdell (Sister Marianne)
Scott Arthur (Yukon 9)
Alan Ruscoe (Ray)
Writer(s)
Christopher Cooper
Director(s)
Gary Russell
Purchase From: