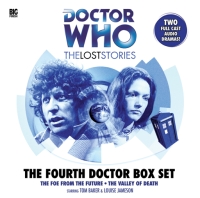 Rating
Votes
10

8%

6
9

16%

12
8

40%

31
7

19%

15
6

14%

11
5

0%

0
4

1%

1
3

1%

1
2

0%

0
1

0%

0
Average Rating

7.7

Votes

77
Synopsis

The jungle is filled with giant creatures and angry tribesmen, all ready to attack. But in the famed lost city of the Maygor tribe, something far, far worse is lurking. Something with an offer to make to mankind. Who are the Lurons and can they be trusted? Will the Doctor defeat the plans of the malevolent Godrin or will he become just another victim of the legendary Valley of Death?
Has Prerequisite Story
0 out of 18 (0.0%) raters say this story requires a previous story.
Doctor(s)
Companions
Cast
Tom Baker (The Doctor)
Louise Jameson (Leela)
Nigel Carrington (Emissary Godrin/Dr Summersby/Announcer)
Delia Lindsay (Overlord Saldor/Newsreader)
Jane Slavin (Valerie Carlton)
Anthony Howell (Edward Perkins)
David Killick (Professor Cornelius Perkins)
Richard Bremmer (General Hemmings/Valcon/Taxi Driver)
Writer(s)
Philip Hinchcliffe,Jonathan Morris
Director(s)
Ken Bentley
Purchase From: