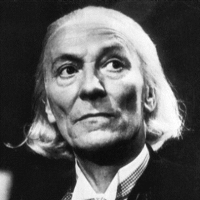 Rating
Votes
10

5%

4
9

3%

2
8

26%

20
7

31%

24
6

27%

21
5

4%

3
4

3%

2
3

3%

2
2

0%

0
1

0%

0
Average Rating

6.9

Votes

78
Synopsis

The TARDIS materialises not far from Paris in 1794 - one of the bloodiest years following the French Revolution of 1789. The travellers become involved with an escape chain rescuing prisoners from the guillotine and get caught up in the machinations of an English undercover spy, James Stirling - alias Lemaitre, governor of the Conciergerie Prison.

The Doctor - posing as a Regional Officer of the Provinces - is twice brought before the great tyrant, Robespierre himself, and has to talk himself out of trouble. Ian and Barbara, meanwhile, have a close encounter with a future ruler of France, Napoleon Bonaparte.

As events reach their climax, Robespierre is overthrown - shot in the jaw and dragged off to the prison - and the Doctor and his friends slip quietly away.
Has Prerequisite Story
0 out of 16 (0.0%) raters say this story requires a previous story.
Doctor(s)
Companions
Cast
The Doctor - William Hartnell Barbara Wright - Jacqueline Hill Ian Chesterton - William Russell Susan Foreman - Carole Ann Ford D'Argenson - Neville Smith Danielle - Caroline Hunt Jailer - Jack Cunningham Jean - Roy Herrick Judge - Howard Charlton Jules Renan - Donald Morely Lemaitre - James Cairncross Léon Colbert - Edward Brayshaw Lieutenant - Ken Lawrence Napoleon - Tony Wall Paul Barrass - John Law Peasant - Denis Cleary Physician - Ronald Pickup Road works overseer - Dallas Cavell Robespierre - Keith Anderson Rouvray - Laidlaw Dalling Sergeant - Robert Hunter Shopkeeper - John Barrard Small boy - Peter Walker Soldier - James Hall Soldier - Terry Bale Soldier - Patrick Marley Webster - Jeffry Wickham
Writer(s)
Dennis Spooner
Director(s)
Henric Hirsch,John Gorrie
Purchase From: