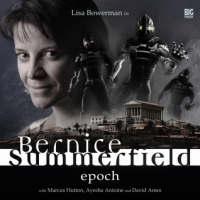 Rating
Votes
10

8%

2
9

15%

4
8

62%

16
7

8%

2
6

4%

1
5

0%

0
4

0%

0
3

4%

1
2

0%

0
1

0%

0
Average Rating

8.0

Votes

26
Synopsis
The Great Leader is dead... Long live the Great Leader!

Atlantis is in disarray. The Historians are hiding Bernice, Leonidas and Ruth within their safe house – but the world is changing more than they could have ever imagined.

People are being erased from existence, their memories wiped clean and replaced with those of others. Entire buildings are altering, times are changing… and the Hierophants are on the move.

Can Bernice and her friends save Atlantis from the end of existence? Or will they too be assimilated?
Has Prerequisite Story
8 out of 8 (100.0%) raters say this story requires a previous story.
Cast
Lisa Bowerman (Bernice Summerfield)
Ayesha Antoine (Ruth)
Marcus Hutton (Leonidas)
David Ames (Jack)
Michael Thomson (The Epoch)
Prentis Hancock (Craisus)
Tracy Brabin (The Queen)
John Stahl (Poseidon)
John Montgomery (Acanthus)
Graeme Henderson (Cordin)
Chris Johnson (Darion)
Rebecca Newman (Helena)
Writer(s)
Director(s)
Gary Russell
Purchase From: