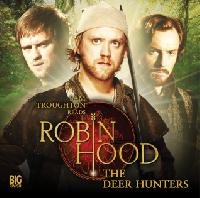 Rating
Votes
10

0%

0
9

33%

1
8

67%

2
7

0%

0
6

0%

0
5

0%

0
4

0%

0
3

0%

0
2

0%

0
1

0%

0
Average Rating

8.3

Votes

3
Synopsis

When Much sees a rare albino deer, he accidentally starts a race between rival hunters to bring the prize to Prince John. Robin resolves to find the stag first, while Tuck hatches a plan to keep the poachers off his trail. All Tuck needs is a lot of wool, a lot of luck, and two volunteers...
Has Prerequisite Story
0 out of 0 (0%) raters say this story requires a previous story.
Cast
Read by Sam Troughton
Writer(s)
Jonathan Clements
Director(s)
John Ainsworth
Purchase From: