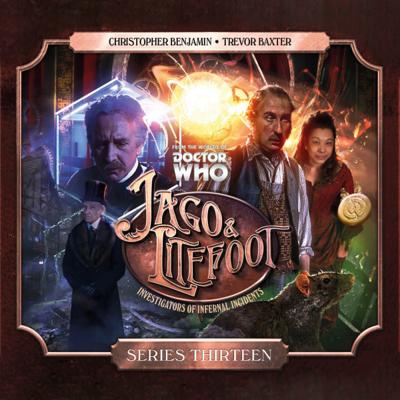 Rating
Votes
10

25%

1
9

25%

1
8

25%

1
7

0%

0
6

25%

1
5

0%

0
4

0%

0
3

0%

0
2

0%

0
1

0%

0
Average Rating

8.3

Votes

4
Synopsis
Jago and Litefoot meet their equivalent infernal investigators in this world – Aubrey and Betterman. Together they investigate sightings of a strange 'demon' and bodies that mysteriously fade away… Before long they discover a crashed spaceship, and find out the truth behind Mrs Bartholomew and the Chapel of Night. But even with this mystery solved, will they be able to get home again?
Has Prerequisite Story
3 out of 3 (100.0%) raters say this story requires a previous story.
Cast
Christopher Benjamin (Henry Gordon Jago)
Trevor Baxter (Professor George Litefoot)
Lisa Bowerman (Ellie Higson)
Conrad Asquith (Inspector Quick)
Abi Hayes (Agent Cara)
Carolyn Pickles (Dr Hilary Standish)
Tony Turner (Harry Hypno/ Sergeant Delaney/ Dr Logan)
Teresa Banham(Mrs Bartholomew/ Angelica)
Oliver Lansley (Jack Ridpath)
Jeff Rawle (Toby Brokesmith)
Lucy Sheen (Xiu Xiu)
Phoebe Thomas (Hannah Price)
Oliver Jackson (Dicky Twist)
David Warner (Dr Luke Betterman)
Jamie Newall (Aubrey)
Writer(s)
Director(s)
Lisa Bowerman
Purchase From: