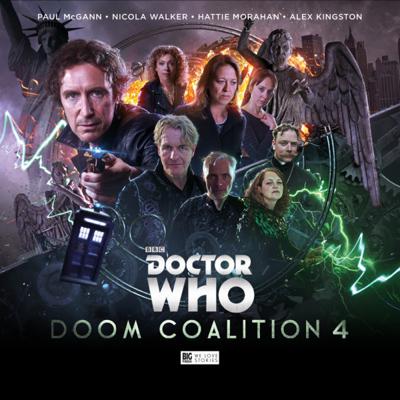 Rating
Votes
10

21%

4
9

32%

6
8

37%

7
7

0%

0
6

5%

1
5

5%

1
4

0%

0
3

0%

0
2

0%

0
1

0%

0
Average Rating

8.5

Votes

19
Synopsis
Cardinal Ollistra has plans for New York, plans which involve the Deputy Mayor and her sponsor, one 'Reverend Mortimer' – better known to the Doctor as the Meddling Monk. The Eleven arrives to stamp out the resistance, but that isn't the only danger the Doctor finds lurking in the shadows – for New York is a city of Weeping Angels.
Has Prerequisite Story
15 out of 15 (100.0%) raters say this story requires a previous story.
Doctor(s)
Companions
Cast
Paul McGann (The Doctor)
Nicola Walker (Liv Chenka)
Hattie Morahan (Helen Sinclair)
Alex Kingston (River Song)
Mark Bonnar (The Eleven)
Robert Bathurst (Padrac)
Emma Cunniffe (The Sonomancer)
Rufus Hound (The Meddling Monk)
Beth Chalmers (Veklin)
Carolyn Pickles (Cardinal Ollistra)
Jacqueline Pearce (Ollistra)
Olivia Poulet (Jerasta)
Vince Leigh (Volstrom/ Matrix Keeper/ Computer)
Sasha Behar (Presidential Aide/ Tessno/ Ladonne)
Ronnie Ancona (Joanie Carrington)
Alex Beckett (Alekall)
Writer(s)
Director(s)
Ken Bentley
Purchase From: