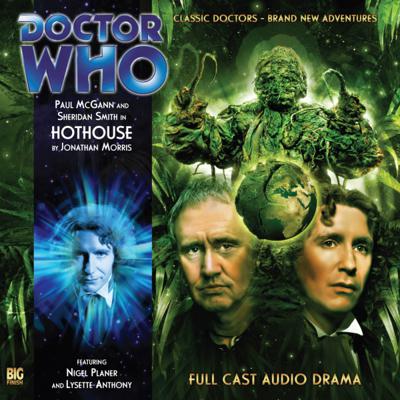 Rating
Votes
10

5%

6
9

4%

4
8

23%

26
7

27%

30
6

24%

27
5

7%

8
4

5%

5
3

4%

4
2

1%

1
1

0%

0
Average Rating

6.8

Votes

111
Synopsis

There's something growing inside the Hothouse. Something that could turn back humanity's tide. A voracious alien vegetable called the Krynoid. The Doctor's going to have to stop it. Stop Marlow. Stop Marlow's fanatical acolyte, Lucie Miller...
Has Prerequisite Story
4 out of 13 (30.8%) raters say this story requires a previous story.
Doctor(s)
Companions
Cast
Paul McGann (The Doctor)
Sheridan Smith (Lucie Miller)
Nigel Planer (Alex Marlowe)
Lysette Anthony (Hazel Bright)
Adna Sablyich (Christina Ondrak)
Stuart Crossman (Stefan Radek)
Barnaby Edwards (Newsreader)
Writer(s)
Jonathan Morris
Director(s)
Barnaby Edwards
Purchase From: