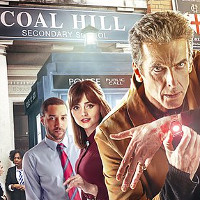 Rating
Votes
10

7%

6
9

5%

5
8

29%

26
7

24%

22
6

15%

14
5

7%

6
4

5%

5
3

4%

4
2

1%

1
1

2%

2
Average Rating

6.8

Votes

91
Synopsis
When terrifying events threaten Coal Hill School, the Doctor decides to go undercover. The Skovox Blitzer is ready to destroy all humanity - and worse, any second now, Danny Pink and the Doctor are going to meet.
Has Prerequisite Story
17 out of 38 (44.7%) raters say this story requires a previous story.
Doctor(s)
Companions
Cast
The Doctor - Peter Capaldi
Clara - Jenna Coleman
Danny Pink - Samuel Anderson
Courtney Woods - Ellis George
Adrian - Edward Harrison
Mr Armitage - Nigel Betts
CSO Matthew - Andy Gillies
Noah - Nanya Campbell
Yashe - Joshua Warner-Campbell
Kelvin = Oliver Barry-Brook
Tobias - Ramone Morgan
Mr Woods - Winston Ellis
Mrs Woods - Gracy Goldman
Mrs Christopholou - Diana Katis
Skovox Blitzer - Jimmy Vee
Seb - Chris Addison
Writer(s)
Gareth Roberts,Steven Moffat
Director(s)
Paul Murphy