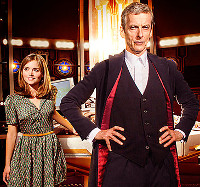 Rating
Votes
10

7%

8
9

19%

20
8

27%

29
7

25%

27
6

13%

14
5

7%

7
4

1%

1
3

0%

0
2

1%

1
1

0%

0
Average Rating

7.5

Votes

107
Synopsis
When the Doctor arrives in Victorian London he finds a dinosaur rampant in the Thames and a spate of deadly spontaneous combustions.

Who is the new Doctor and will Clara's friendship with him survive as they embark on a terrifying mission into the heart of an alien conspiracy?

The Doctor has changed. It's time you knew him.
Has Prerequisite Story
20 out of 47 (42.6%) raters say this story requires a previous story.
Doctor(s)
Companions
Cast
The Doctor - Peter Capaldi
Clara - Jenna Coleman
Madame Vastra - Neve McIntosh
Strax - Dan Starkey
Jenny - Catrin Stewart
Half-Face Man - Peter Ferdinando
Inspector Gregson - Paul Hickey
Writer(s)
Steven Moffat
Director(s)
Ben Wheatley