1 out of 1 found this review helpful.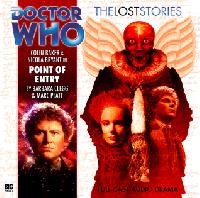 7
Reviewer Says:
No previous stories required.
Point of Entry shouldn't drag - but it does. It shouldn't drop you out of following the story - but it does.

I think part of the problem is not the Elizabethan setting - which is excellent, or the lead performances - which are solid, but rather that the pacing is off. It drags due to slowness and the drama really needs some punchy dialogue and quick delivery, but somehow it grinds to a halt during the Walsingham encounter and loses consciousness completely shortly after.

It doesn't help that a scene with a rack is treated by the Doctor as "ho hum yawn" instead of loosing a blood curdling scream or even a trademark grunt of effort. Just - yawn. If he isn't scared or excited, why should we be?

Great ideas, poor ball handling skills.

1 out of 1 found this review helpful.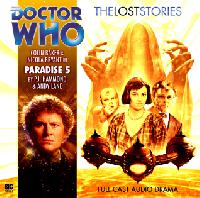 9
Reviewer Says:
No previous stories required.
Paradise 5 sees the 6th Doctor and Peri explore a sinister space station orbiting a hellish world, which paradoxically is a vacation spot for the rich and jaded of a capitalist society of futuristic humans.

It also lampshades the "Doctor visits old friends" repeated intro, which is acceptable in this case since it never happens again.

For Peri fans it conjures up the character at her most objectified in terms of her sexy outfits in this story whilst simultaneously subverting all of that by giving her the most to do, including real mystery sleuthing and some actual puzzle solving in episode one.

The gay villains are a nice touch since they aren't camp as a row of tents or particularly one note.

The monsters are well realised.

For whatever reason, and it is a little inexplicable, this one is easy to listen to and follow on first hearing and is excellent on replays. Compared to Point of Entry for example, which I find hard to listen to and follow, the soundscape in Paradise 5 really enfolds you and keeps your interest.

1 out of 1 found this review helpful.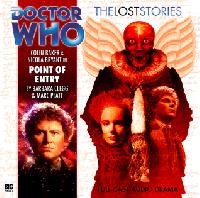 7
Reviewer Says:
No previous stories required.
This psuedo-historical explores playwrite and spy Kit Marlowe's dealing with the dark side and the occult. This story definitely leans strongly towards horror and there are a few dark scenes that lean towards being unpleasant, such as when Peri is abandoned by Marlowe.

The story has some eerie and creepy moments, but there are a few nice moments of comedy worked in. (The Doctor as "The Queen's" (i.e. Peri's wigbearer was hilarious.) Luis Soto is superb as the sinister Velez, while the rest of the guest cast performs well-enough.

I did think that they story was a bit padded and crawled in some places. For much of the story, the Doctor is left with not a lot to do. Still, it's an interesting and mostly engaging listen.