1 out of 1 found this review helpful.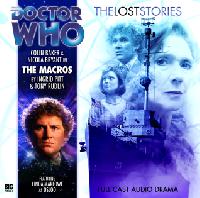 5
Reviewer Says:
No previous stories required.
Yeah, it's a bit of a plodder, and based on infamous hoax. Nothing wrong with the performances, and the production values are good, but I think BF could have done a bit more to generate some atmosphere. I found it to be unusually flat, and overall I didn't think this was a particularly engaging story.

Not keen on Peri's singing attempt, more cringe worthy than comedy. Peri poking fun at how much time she spends in prison cells is a nice meta-joke. Presidente Osloo's motivation of 'Oh, there is another universe? I know, let's conquer that!' is beyond ridiculous. Compensate for transfers between dimensions? Was it necessary in 'The Mind Robber' or 'Inferno'? No. What utter techno-babble, and it just feels dumped in there, so I assume that's also Richardson's contribution.

The Big Finish Companion Volume 1: states that before commencing work on the audio version of 'The Macros', the writers, Ingrid Pitt and Tony Rudlin lost their only version of the original script due to a hard drive failure; This release was rush commissioned due to 'The Children of January' falling through at late notice. Also, the zero room scene was an addition by the producer David Richardson, and was intended to high light the warming relationship between Peri and the Doctor.
1 out of 1 found this review helpful.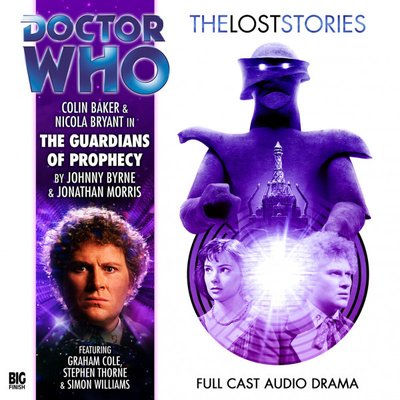 8
Reviewer Says:
No previous stories required.
I liked 'Keeper of Traken', but to be honest I have never felt that there was a need for any kind of sequel to it. Now, I am presented with one I was of course keen to hear it, although, I never saw its sequel status as any assurance of quality. Know I think of it, isn't funny how often these planets of the Benign Union get invaded by pure evil? This really is more of a retread than a sequel, but I enjoyed it the first time so why not again, but without visual stimulus? I mean a story that excelled partly because of how attractive it was can only get better through sensual deprivation, right? Part of the reason for this being so familiar is that the story is adapted by Jonathan Morris, who wrote 'Keeper of Traken', this story began a potential story for 1983's Doctor Who. This audio version is based on a 17 page treatment written by Johnny Byrne and given to Sarah Groenewegenwhen they had been pen pals; she kept the treatment since the 80s or 90s.

Ken Bentley's direction is always good, and he has assembled a strong cast here. The acting is good but a lot of the characters are instantly forgettable with a few notable exceptions. One of which is Autolycus Ebbko, the greatest safe-cracker in Mutter's Spiral. The Doctor claims that he has always wanted to meet Ebbko. Near the end the Doctor is prepared to destroy himself and the planet in order to defeat Malador, but the ends justify the means stance that signals that the Doctor is out of luck also signifies that it won't come to that, so look elsewhere for your hero. So, there is a bit of role-reversal here with the Doctor about to destroy everything, albeit for a noble cause, and the morally grey Ebbko saving the day. Personally, I think it's a nice touch, and quite refreshing. Then again, the whole thing does feel like an existential examination of evil. It's nice that it has a theme, but isn't most Doctor all about good versus evil?

Malador's voice was nice and deep without sounding like he was slow witted, an affliction that seems to affect a lot of BF villains, like the Bone Lord in 'Army of Death'. Prophecy's fairy like voice is silly to say the least, and the guardian robots' (sorry, can't remember their name) war cry of "Eradicate" was equally grating. Why do all robots in the Doctor Who universe need a battle cry?

The plot excels in consistency of internal logic and is nicely paced. Unfortunately, it is all so functional and at times lifeless, it's almost robotic. This isn't helped by the very nice, but bit too laid back, music. There are however, a few deft touches of humour here and there to liven things up. The characterisation isn't particularly strong, and Peri is reduced to a plot device. Although, I have to say that the idea of the Malador having his own conscience surgically removed is rather interesting, and at the same time odd! Shame they didn't expand on this a little more. Even though I found this to be flawed it was still none the less highly enjoyable, perhaps because it was so flawed.

0 out of 0 found this review helpful.
6
Reviewer Says:
No previous stories required.
'The Destroyers' was released in December 2010 by Big Finish as part of The Second Doctor Box set. It was based on an unproduced script for a pilot episode written by Terry Nation in 1966, and was recorded on 7 May 2010. Nation's script as adapted by Nick Briggs and John Dorney who switched the roles of Sarah and David.

In the 40th century Space Security Agents: Sara Kingdom, Jason Corey and Mark Seven (an android who appeared in numerous 1970's Dalek Annuals) investigate an attack on Explorer Base One on the M5 asteroid. As the sole survivor of the Daleks' attack, Sara's brother, David is taken away for questioning.

The Music to the Destroyer is modern and cool, yet dramatic and majestic, but with a strong sixties vibe. Sara Kingdom is the protagonist who also narrates this. As I am not a fan of narration then I have to ask why this is necessary, but it isn't too intrusive though. The sounds are often chilling and sudden generating a creepy vibe nightmarish vibe not dissimilar to 'Mission to the Unknown'. The Daleks screech out their usual phrases, "Exterminate!" and "Attack and Destroy!" This feels all too familiar. This feels like sequential nightmarish sequences with not much narrative to link them together, and while there is plenty of curio value to this, I don't think I will be in a rush to hear this again anytime soon. Lots of jeopardy, but not much characterisation, it feels like a sixties Dalek comic strip brought to life.