Review By
MTL
11/4/13 6:03 am
2 out of 2 found this review helpful.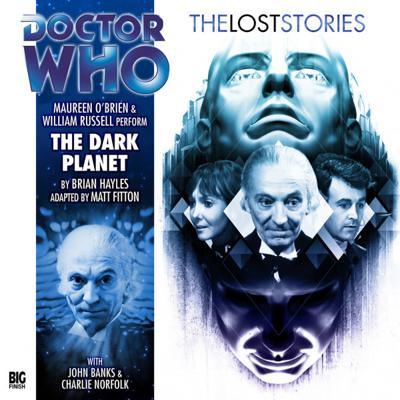 6
Reviewer Says:
No previous stories required.
A lovely reminder of a regular type of story in 60s Who: the travellers land on a planet and explore it, meeting non-humanoid aliens that prove to be just as flawed as us. As nice as it is, it does of course come with the problem of predictability. It is pretty easy to see where the plot is going, making the cliffhngers more like a break than a dramatic climax. As such, it is not one of the most exciting stories to listen to, but more of a comfortable experience to sit and relax to the gorgeous voices of William and Maureen.

The planet and its inhabitants aren't particularly riveting beyond some lovely pieces of imagery - the various descriptions of light and shadow intermingling and conflicting do paint a lovely picture that is a pleasure to listen to. The performances are all great but again, nothing exceptional. The regulars behave as they do in most stories. However, we do get some nice insights - Vicki's family, Ian's interest in photography, the Doctor's desire for peace. Unfortunately, Barbara doesn't get a lot to do but Maureen does a great job filling in Jacqueline Hill's shoes. As ever, the TARDIS team are recreated brilliantly even when missing half its actors.

So, as you can probably tell, this is a run-of-the-mill story with nothing daringly original, but is never a chore or a pain to listen to. A pleasant listen.
Review By
komodo
11/3/13 3:21 pm
1 out of 1 found this review helpful.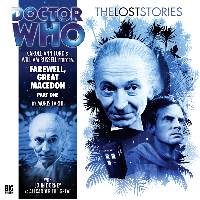 9
Reviewer Says:
No previous stories required.
It is impressive that so few voices can tell such a story that has so many key characters. At my count, you needed at least 13 voices, yet we hear only 3 and it still feels full cast.
There is so much detail in the plot that the long 6 episodes do not poner or meander. Every moment is used.
So, full credit to writers and director. The plot was so dense that it could have been told without Doctor and companions and you could easily picture from this how history really must have happened.
The 3 voices are supurb, particularly as they change from character to character. You can tell, that just as Alexander's army had a shared vision, so to did the cast and production team of Farewell Great Macedon.
It fits the era so perfectly you can picture it (in black and white)

1 out of 2 found this review helpful.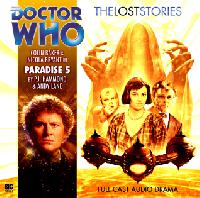 10
Reviewer Says:
No previous stories required.
This Lost Story features the 6th Doctor and Peri. Peri gets a job at Paridise 5 while the Doctor is a guest as the investigate one of the Doctors missing friends. This story is the best Lost story I've heard and may be one of the best stories by big finish. Peri is one of my least favourite companions but is wonderful in this story as is the character Gabriel and the 6th doctor is great as always