2 out of 2 found this review helpful.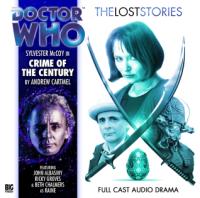 7
Reviewer Says:
No previous stories required.
Crime of the Century introduces Raine as a companion of the Seventh Doctor. The first scene she's in is absolutely brilliant safe cracking scene which leads into a solid first epiosde. Raine is an interesting character.

The rest of the story doesn't quite live up to this strong beginning and seems to struggle to have any focus at all. There's a war, and there's a sword to deliver to a prince, ,there's alien warrior bugs, and there's a weapon behind some robot guards in a safe. Indeed, the referenced "Crime of the Century" is a throw away line by Marcus Creevy about a stock market crash that is mentioned in episode one and explained towards the middle of episode four.

However, despite the helter skelter nature of the script, the story is quite enjoyable. The cast is very strong with great chemistry. The Metatraxi are a well-realized and fun alien species, helped by the Doctor's assistance with their translating devices. John Banks turns in a good performance. While the plot could have been more coherent, this story features enough quirky fun to make for an entertaining couple of hours.
0 out of 0 found this review helpful.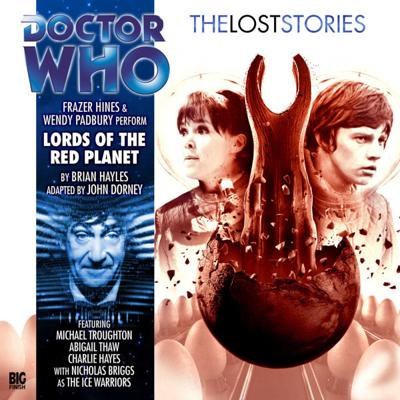 8
Reviewer Says:
No previous stories required.
Lords of the Red Planet: I am a sucker for origins stories, and being written nearly a decade before 'Genesis of the Daleks' I think that shows how forward thinking this was. Ok, I have never really been particularly curious about the Ice Warriors but I don't think that detracts from this at all. It sounds authentic to the period it was written in, which is a strength and a weakness. On the one hand, the effects and music are great, with the actors sounding as good as they possibly can. Then on the other hand, there is a lot of running down corridors, it drags in the middle and it could do with losing an episode. To be honest, it's hard to see why it got dropped.

The action centres mainly around the humble pacifist Quendril, expertly brought to life by Michael Troughton. Quendril and his submissive assistant Risor are two of the most interesting and infuriating characters in this. Strongly influenced by Frankenstein at times, Quendril occupies the, refreshingly not mad, scientist role as he forced by the tyrannical despot Zaadur (power behind the throne) to engage in torturous experiments on the local wildlife which has given rise to the slave race that eventually becomes known as the Ice Warriors. Veltreena (played by Charlie Hayes, the daughter of Wendy Padbury) and Risor are two of Quendril's creations. Veltreena is the accepted ruler and princess of the indigenous, non-Ice Warrior, people. She often acts spoilt but at the same time manages to display a softer, more caring side to her father's lackey, Risor who is often referred to as simply, "The Failure."

It's harder to care about Quendril than Risor because Quendril is more intelligent and powerful than the short Ice Warrior like Risor who is subjugated but doesn't appear to have the means, physically or intellectually, to free himself. Whereas we eventually find out that Quendril not only had a hand in creating the situation he finds himself in but through in action has actually allowed it to escalate unabated. When we meet Quendril early on, he does actually attempt to call an end to his cruel experiments but coerced by Zaadur to continue. Whilst doing so Zaadur, a typically two dimensional villain, suggests that even though it would be her actions that do the harm it will ultimately be Quendril's fault. Fine, typical bully tactics, but when the Doctor moves Zaadur's Ice Warrior eggs and reveals that they were either buried or destroyed by an explosion that Zaadur let off the Doctor also attempts to shift the blame, similar to the end of Remembrance of the Daleks. I am not saying that the Doctor was wrong to do that or that it is a fault with the writing. I just thought it was an observation worth making. Quendril also displays some odd morals, when he learns that Zaadur is planning on leaving the planet he takes an, 'at least it won't be our problem anymore' attitude that for me doesn't match up with his previous actions of somebody who lives by a strong moral code of honour. Risor is the one who eventually redeems himself with an act of valour, and is the character that I find the most likeable, along with Aslor. Aslor is the subject of the continuing experiments to create the Ice Lords, and like Risor and his Ice Warrior brethren is brilliantly voiced by Nick Briggs.

All the Ice Warriors feel like they have individual personalities, which is refreshing even if some of the other characters have odd characterisation. Jamie for instance, when the trio are initially accosted by the Martians and Zoe is attacked Jamie is nowhere to be heard. We find out he has scarpered down some tunnels. So much for, "Creag an tuire."

So, did we really need an Ice Warriors story? Perhaps not, their origins are nothing more than simple trivia that has no impact on who they are now, but I am glad that we have this. My only real problem with it is that it's so long! I think one and a half hours is ideal for a story length, two hours allows you to do a bit more, two and a half is indulgent; three and a half hours though? I know it brings up the whole how loyal to the original should they be issue, but I doubt I will be in a hurry listen to this again anytime soon because the runtime really is a chore if you can get through it though you are rewarded with a truly epic ending.

0 out of 0 found this review helpful.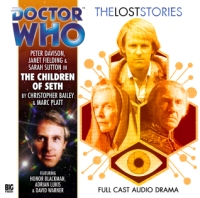 7
Reviewer Says:
No previous stories required.
'The Children of Seth' was originally penned by the writer of 'Kinda' and 'Snakedance', but was adapted by Marc Platt. Every actor gives a great performance and this is a strong script, but there are a lot of tropes of the Davison era here, landing to investigate a distress call, a companion being possessed or brain washed and a futuristic alien state built upon deceit and corruption. Oh, and one of the companions, Nyssa in this case, goes AWOL for a large period of it. What this does do well however is to paint a picture of an alien society, bit like 'Snakedance' did.

Honor Blackman, as the Doctor's old acquaintance from a previous expedition, manages to depict a strong character that is warm and comforting to her allies, while being cold and rebellious to her enemies. David Warner, as her senile and cruel husband, is a perfect match. The images of Honor Blackman and David Warner used on the CD cover do not accurately reflect the descriptions of their characters' appearances as given in the audio drama. Queen Anahita is said to have been noticeably disfigured by fire many years earlier whereas Autarch Siris makes several references to his beard.

Even if it's Doctor Who by numbers it is still technically so well written with high production values, but it's probably not for everyone. Definitely requires multiple listens.