2 out of 2 found this review helpful.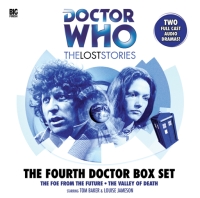 6
Reviewer Says:
No previous stories required.
I wish i liked this one more than I do, but my abiding memory is of listening to the play a little time after finishing the magnificent FOE FROM THE FUTURE and feeling disappointed. Perhaps those for whom VALLEY OF DEATH is a favourite may think I'm being unfair. I should add that I don't hate VALLEY. But not hating it isn't much of a recommendation.

As others have commented it's strangely unrepresentative of Tom Baker's early seasons and seems an odd choice for Philip Hinchcliffe to write a script partly based in an Amazon rainforest, complete with hostile natives, lost cities, giant wildlife etc. Would this actually have been something a 1970's DR WHO budget could have credibly realised? I strongly suspect not. In fact it sounds like it had the potential to be a Myrka-sized disaster. Is this why it was shelved?

Having said that and taking it on it's own merits as a revamped audio play, I would say it's so-so. Matters are helped by the performances of most of the cast. Tom and Louise sound like they're having a good time, and Jane Slavin and Anthony Howell do their best to flesh out what feel like rather underwritten characters (she's headstrong and aggressively go-getting, he's well-meaning but a bit of a wimp and a twit and err...that's basically it). Nigel Carrington's Godwin - who for much of the play is the main villain - gets to be despicable and treacherous in mildly entertaing ways but he's no more than a cartoon baddie and (perhaps for no other reason than the script suggests it) the performance verges on caricature. As for his species, the Lurons are generic aliens out to destroy mankind with not too much to make them different from say, the Kraals or the Axons (etc). Because DR WHO has seen quite a lot of these kinds of invaders in its history, they don't stand out and are not sufficiently interesting as villains.

On the plus side the sound design is excellent, the pace is fit for purpose and the plotting is crisp and clear. I was never bored or confused, I simply wasn't gripped or transported. I'm glad all concerned made the effort to do VALLEY OF DEATH, and it's a marked improvement on certain other Lost Stories (e.g. PRISON IN SPACE, THE HOLLOWS OF TIME or MISSION TO MAGNUS) I just can't get wildly excited about it. Perhaps I should have listened to it before FOE FROM THE FUTURE? 6/10
4 out of 4 found this review helpful.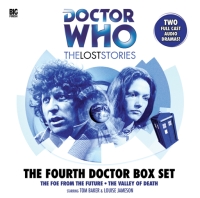 10
Reviewer Says:
No previous stories required.
How amazing is this play? A six-parter that totally justifies its length, a 4th Doctor and Leela story made 35 years after Tom Baker and Louise Jameson first teamed up on TV that sounds like they've never been away (please remember that Tom was 77 years of age when the play was recorded!). A story that has a streak of sardonic black humour, many gruesome moments of out and out horror and not one duff line, performance or iffy aspect to the sound design. This is the Big Finish production I'd dreamed about ever since THE SIRENS OF TIME came out in 1999. It's very hard to write about your favourite things and this is my favourite DR WHO play, period.

The play not only ticks all boxes for what I demand in a good DR WHO story, it exceeds expectations. It has a brilliant Doctor and companion combination, it has scary monsters (we can be thankful that the mantis-like Pantophagen were never realised on screen with a 1970's budget), a vast, doomy threat to humanity and a brilliantly acted, three-dimensional villain in the shape of Paul Freeman's Jalnik who easily joins the gallery of greats along with Tlotoxl, Magnus Greel, Tobias Vaughn, Delgado's Master or any others one might care to add. It also has incisive, witty dialogue that never bores, never flags and always keeps the plot moving along. It has an amazing supporting cast who all deserve awards. Don't you just love Charlotte from the village and her instant rapport with Tom's Doctor? Don't you adore sweet naive Shibac and aren't you punching the air when there is a definite hint of romance between him and Charlotte? Kudos to Louise Brealey and Blake Ritson. This aspect is genuinely sweet and comic, by the way, without being syrupy or contrived - no, not in the least, tiniest bit - current version of the TV series take note!

Yes, to those who carp that FOE FROM THE FUTURE gained it's popularity from the warm fuzzy glow of nostlgia for the late 1970's, I would agree that is an aspect which is undeniably present and correct. But the point is that's what it's for! To my way of thinking it wasn't until 2013 that we started to get other 4th Doctor plays that were not only nearly as good but also authentic to Tom's tenure as the Doctor (e.g. THE JUSTICE OF JALXAR, LAST OF THE COLOPHON). It's quite a hard feat to pull off when your audience demands that you have to surprise and delight as well as remind them of the good times they had way back when. THE FOE FROM THE FUTURE was a very pleasant surprise indeed and always delights whenever I listen to it. Thank you to all involved in the production. 10/10



4 out of 4 found this review helpful.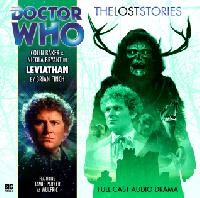 9
Reviewer Says:
No previous stories required.
Leviathan was a Lost Story that, when it was released, I knew barely anything about. I assumed it must have been dropped because it wasn't very good, especially as it was coming from the pen of an author who had never written for the show before. However, I must say this is probably the best story from this first season of Lost Stories, in every way it's a minor classic. Well written, acted, directed and produced, this story is a real hidden gem. No wonder this story was tacked onto the schedule at last minute because of an email from Doctor Who Magazine, because even from the sound of the script it's such a great sounding drama.

Brian Finch's original plot is so interesting and dynamic that it beggars belief as to why it never appeared on screen. I imagine that it may have stretched the budget to breaking point, but they may have just about get away with it. However, like Foe From The Future or First Sontarans, it's a real feather in Big Finish's cap to have this story, and, if it had been made on TV, I imagine that the realisation of this story would have suffered. There obviously massive advantages to doing this story on audio, and it actually fits really well into the audio medium. Part of me wonders if having Brian's son, Paul Finch, to write it helped, as it's impossible to work out where Brian began and Paul ended. The plot is so strong, with wonderful twists and turns that manage to excite the audience. That first episode really builds up to a wonderful cliffhanger that manages to work as a visual piece and an aural piece as well. The location as well is so distinct that it's so easy to visualise. Sometimes alien worlds in the future and spaceships and extra dimensional beings become very difficult to visualise differently. However, an English castle near a small town in a wooded clearing is very easy to visualise and that means it's a very distinct location for this story. The 'green world' theory is usually present in comic dramas, but it's used well and manages to give it dramatic legs and it makes a nice contrast to the corridors of the spaceships we find ourselves in in the second episodes.

The characters are a very distinct bunch, each of them different and interesting. The rebel youths are more than the goody goody heroes of Robin Hood legends, but are more shades of grey. Normally, youths in Big Finish audios never come off very well, but in this instance they manage to pull it off reasonably well. It's nice to see Big Finish managing to do something very different to how they normally do, especially considering the poor acting talent of the youths in the previous story Mission To Magnus. The three scrap merchants, however, are a little more cliched, but never the less still very interesting. One thing that we really should note is the number of doubling up between actors. Normally these Lost Stories require a lot of doubling up anyway, but in this case there's actor's playing three characters and in some cases even four characters. But Big Finish have such a strong cast of regular actors in this story. Beth Chalmers, John Banks, Derek Carlyle, Jamie Parker and Howard Gossington all play more than one character. But all of them manage to sound completely different and they do make each character very interesting. And once more, Colin Baker and Nicola Bryant are one more fantastic at recreating there parts from 1985. But unlike in the previous two stories, certainly in Colin's case, but this does apply to Nicola too, there personalities match better those of you would see (whoops, I mean hear!) in the main range. Ken Bently's direction and Simon Robinson's sound design and music is phenomenal, really coungering up this rustic paradise, with it's horses and dogs and castles. It is a very rich and strong soundscape.

So, Leviathan is such a wonderful story, with all it's elements coming together perfectly to form a wonderful storyline. After 25 years, it was so nice to hear what would have been a very good slice of 80's Doctor Who. As it is, it's an excellent Doctor Who story with a wonderful premise, a strong plot and a good cast. Everything element comes together to create one of the strongest Lost Stories money can buy.