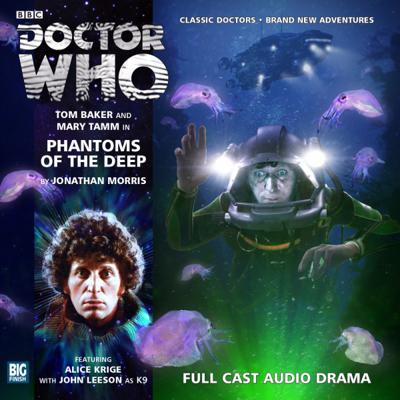 Rating
Votes
10

5%

4
9

13%

10
8

39%

29
7

27%

20
6

11%

8
5

4%

3
4

0%

0
3

0%

0
2

0%

0
1

1%

1
Average Rating

7.5

Votes

75
Synopsis

A battered blue police box.

As the Doctor, Romana and K9 join them on their journey, the submariners soon discover that the TARDIS is not the only unusual find lurking on the sea floor.

Super-intelligent squid, long-lost submarines and their miraculous occupants are only the start of their troubles. The Goblins are coming. And they won't let anyone out alive.
Has Prerequisite Story
0 out of 40 (0.0%) raters say this story requires a previous story.
Doctor(s)
Companions
Cast
Tom Baker (The Doctor)
Mary Tamm (Romana)
John Leeson (K9)
Alice Krige (Doctor Patricia Sawyer)
John Albasiny (Chris Fleming)
Charlie Norfolk (Terri McCulloch)
Gwilym Lee (Jack Hodges)
Writer(s)
Jonathan Morris
Director(s)
Ken Bentley
Purchase From: