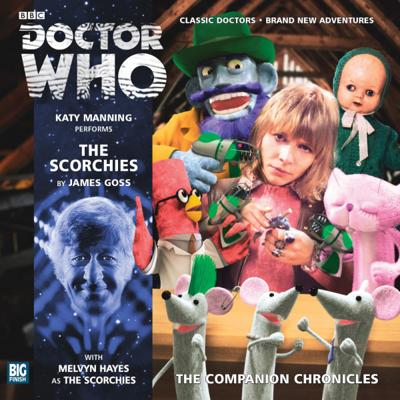 Rating
Votes
10

25%

15
9

39%

24
8

15%

9
7

7%

4
6

7%

4
5

2%

1
4

3%

2
3

2%

1
2

2%

1
1

0%

0
Average Rating

8.3

Votes

61
Synopsis

The Scorchies want to take over the world. They want to kill the Doctor. And they want to perform some outstanding showtunes. Though not necessarily in that order...

With Jo caught inside The Scorchies Show, can she save the day before the planet Earth falls victim to the dark side of light entertainment?
Has Prerequisite Story
0 out of 18 (0.0%) raters say this story requires a previous story.
Doctor(s)
Companions
Cast
Katy Manning (Jo Grant/Scorchies)
Melvyn Hayes (Scorchies)
Writer(s)
James Goss
Director(s)
Ken Bentley
Purchase From: