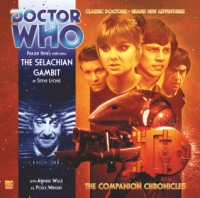 Rating
Votes
10

12%

7
9

9%

5
8

31%

18
7

36%

21
6

9%

5
5

3%

2
4

0%

0
3

0%

0
2

0%

0
1

0%

0
Average Rating

7.7

Votes

58
Synopsis

But then the Selachians arrive, and the Doctor and his companions find themselves as hostages in the middle of a heist.

Death seems an absolute certainty. But the Doctor, Jamie, Polly and Ben have outwitted death before...
Has Prerequisite Story
0 out of 15 (0.0%) raters say this story requires a previous story.
Doctor(s)
Companions
Cast
Frazer Hines (Jamie McCrimmon)
Anneke Wills (Polly Wright)
Writer(s)
Steve Lyons
Director(s)
Lisa Bowerman
Purchase From: