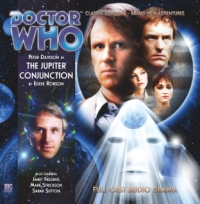 Rating
Votes
10

1%

1
9

11%

8
8

38%

27
7

32%

23
6

11%

8
5

4%

3
4

1%

1
3

0%

0
2

0%

0
1

0%

0
Average Rating

7.4

Votes

71
Synopsis
Eight slash Q Panenka, a craggy comet with a 13km circumference, has an elliptical orbit that takes it between Earth and Jupiter. Which, in the year 2329, makes it a cheap means of space freight – the second class postal service of the solar system.

But when the TARDIS lands on Panenka, the Doctor, Tegan, Turlough and Nyssa discover a community falling apart at the seams – plagued by thefts, and mysterious disappearances among the 'piggybackers' who eke out a desperate existence on the comet.

While Tegan and Nyssa suit up for a dangerous excursion into the comet's Unstable Zone, the Doctor and Turlough find themselves pawns in a game that could lead to tragedy for both Earth and Jupiter alike...
Has Prerequisite Story
0 out of 13 (0.0%) raters say this story requires a previous story.
Doctor(s)
Companions
Cast
Peter Davison (The Doctor)
Janet Fielding (Tegan Jovanka)
Mark Strickson (Vislor Turlough)
Sarah Sutton (Nyssa)
Rebecca Front (Patricia Walton)
John Cummins (Anton Falcao)
Ellie Burrow (Chica St Jude)
Zoe Lister (Violet Silvaner)
Ben Porter (Major Nash)
Simon Blake (Manny)
Philip Pope (Jovians)
Writer(s)
Director(s)
Ken Bentley
Purchase From: