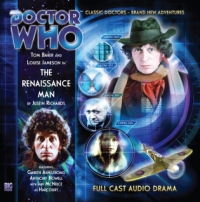 Rating
Votes
10

8%

11
9

11%

15
8

30%

40
7

41%

55
6

5%

7
5

2%

3
4

2%

3
3

0%

0
2

0%

0
1

1%

1
Average Rating

7.6

Votes

135
Synopsis

When people start to die, reality doesn't appear quite what it was. There's something sinister going on within the walls of Harcourt's manor, and the stakes are higher than they can imagine.

The Doctor is about to discover that a little knowledge can be a dangerous thing.
Has Prerequisite Story
2 out of 42 (4.8%) raters say this story requires a previous story.
Doctor(s)
Companions
Cast
Tom Baker (The Doctor)
Louise Jameson (Leela)
Ian McNeice (Harcourt)
Gareth Armstrong (Jephson)
Anthony Howell (Edward)
Daisy Ashford (Lizzie)
Laura Molyneux (Beryl/Professor Hilda Lutterthwaite)
John Dorney (Dr Henry Carnforth)
Writer(s)
Justin Richards
Director(s)
Ken Bentley
Purchase From: