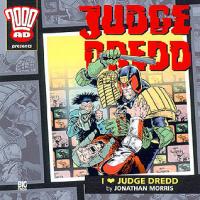 Rating
Votes
10

20%

2
9

20%

2
8

30%

3
7

10%

1
6

20%

2
5

0%

0
4

0%

0
3

0%

0
2

0%

0
1

0%

0
Average Rating

8.1

Votes

10
Synopsis

"I Love Judge Dredd also features contributions from civil rights campaigner Pert Mitchell, former gameshow host Brucie Squires, mineral water magnate Frisco Lambada and hardened criminal mastermind Harry 'The Hat' McGuiness, plus special cameo appearances from pop sensations the Grim Utter Death and Radish Timberlake, leader of the revolutionary collective known only as the 'Karma Vigilantes'.

"Plus, of course, our very special guest, 'Ol' Stony Face' himself! The one, the only... Judge Dredd!"
Has Prerequisite Story
0 out of 3 (0.0%) raters say this story requires a previous story.
Cast
Toby Longworth (Judge Dredd)
Nicholas Briggs (Tark Pastry)
Mark Donovan (Frisco Lambada)
Jeremy James (Brucie Squires)
Hannah Smith (Marjory Household)
Writer(s)
Jonathan Morris
Director(s)
Jonathan Clements
Purchase From: