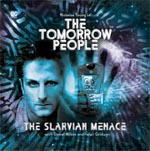 Rating
Votes
10

50%

2
9

25%

1
8

25%

1
7

0%

0
6

0%

0
5

0%

0
4

0%

0
3

0%

0
2

0%

0
1

0%

0
Average Rating

9.3

Votes

4
Synopsis

But why are people disappearing for hours on end after using the phone and why can they never remember where they've been? And why does one of Paul's college friends appear to be involved?

John, Elena and Paul decide to investigate the headquarters of Galactic Communications ­ what horrors will they discover lurking within the factory and who is the company really working for?

Will the Tomorrow People solve the mystery in time, or will mankind awake to the terror of the Slarvian menace?
Has Prerequisite Story
0 out of 0 (0%) raters say this story requires a previous story.
Cast
Nicholas Young (John)
Helen Goldwyn (Elena)
Daniel Wilson (Paul)
Michael Chance (Benson)
Rosalind Blessed (Plumbridge)
Caroline Morris (Sharon)
Matt Kelly (Slarvian Emperor)
Daniel Wilson
Nigel Fairs (Slarvians)
Writer(s)
Mark Wright
Director(s)
Nigel Fairs