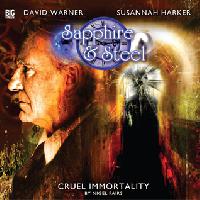 Rating
Votes
10

6%

1
9

50%

8
8

19%

3
7

6%

1
6

19%

3
5

0%

0
4

0%

0
3

0%

0
2

0%

0
1

0%

0
Average Rating

8.2

Votes

16
Synopsis


1949. The Tithonus Retirement Home, deep in an English forest. Sweet rationing has ended, the lights have come back on in London, and Matron is in a good mood. Celebrations are underway when a new resident arrives.


Steel is alone. And tired. Soon he realises that linear time has stopped, but not only for the people in the home...
Has Prerequisite Story
3 out of 3 (100.0%) raters say this story requires a previous story.
Cast
David Warner (Steel)
Susannah Harker (Sapphire)
Muriel Pavlow (Mrs P)
Daphne Oxenford (Enid)
Ian Burford (Stanley)
Lois Baxter (Matron)
Lucy Gaskell
Steven Kynman
Lisa Bowerman
Nigel Fairs (The Carers)
Writer(s)
Nigel Fairs
Director(s)
Lisa Bowerman
Purchase From: