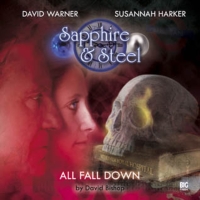 Rating
Votes
10

24%

7
9

21%

6
8

14%

4
7

21%

6
6

3%

1
5

14%

4
4

0%

0
3

3%

1
2

0%

0
1

0%

0
Average Rating

7.8

Votes

29
Synopsis

London, a late summer morning.

The present. Sapphire and Steel investigate an area of the city that is steeped in a rich and bloody history. Artifacts are uncovered that form a dangerous link with the past.
Has Prerequisite Story
0 out of 4 (0.0%) raters say this story requires a previous story.
Cast
David Warner (Steel)
Susannah Harker (Sapphire)
David Collings (Silver)
Michael Chance (Webber)
Kate Dyson (Fleming)
Suzanne Proctor (Mary)
Linda Bartram (The Girl)
Neil Cole (Policeman)
Writer(s)
David Bishop
Director(s)
Nigel Fairs
Purchase From: