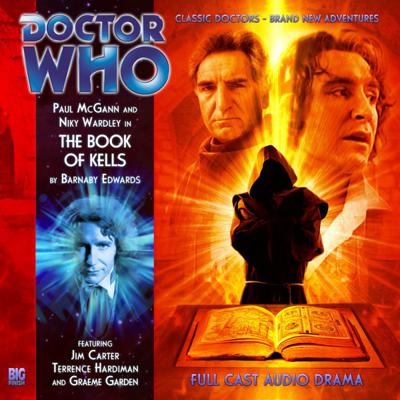 Rating
Votes
10

16%

19
9

23%

28
8

36%

43
7

14%

17
6

8%

10
5

3%

3
4

0%

0
3

0%

0
2

0%

0
1

0%

0
Average Rating

8.2

Votes

120
Synopsis

Ireland, 1006. Strange things have been happening at the isolated Abbey of Kells: disembodied voices, unexplained disappearances, sudden death. The monks whisper of imps and demons. Could the Lord of the Dead himself be stalking these hallowed cloisters?

The Doctor and his companion find themselves in the midst of a medieval mystery. At its heart is a book: perhaps the most important book in the world. The Great Gospel of Columkille. The Liber Columbae. The Book of Kells.
Has Prerequisite Story
7 out of 21 (33.3%) raters say this story requires a previous story.
Doctor(s)
Companions
Cast
Paul McGann (The Doctor)
Jim Carter (Brother Bernard)
Terrence Hardiman (King Sitric)
Graeme Garden (Abbot Thelonious)
Ryan Sampson (Brother Patrick)
Nick Brimble (Olaf Eriksson)
Writer(s)
Barnaby Edwards
Purchase From: