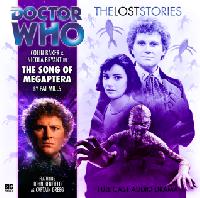 Rating
Votes
10

21%

16
9

9%

7
8

22%

17
7

19%

15
6

18%

14
5

4%

3
4

3%

2
3

3%

2
2

0%

0
1

1%

1
Average Rating

7.5

Votes

77
Synopsis

The Doctor and Peri must use all their wits to survive. But what is the creature running loose in the ship's bowels? And can the Doctor save Megaptera before its song is extinguished forever?
Has Prerequisite Story
0 out of 20 (0.0%) raters say this story requires a previous story.
Doctor(s)
Companions
Cast
Colin Baker (The Doctor)
Nicola Bryant (Peri)
John Benfield (Captain Greeg)
Neville Watchurst (Stennar/Manus)
John Banks (The Caller/Ship's Computer)
Susan Brown (Chief Engineer/Chanel)
Toby Longworth (Stafel/1st Security Guard)
Alex Lowe (Axel/2nd Security Guard)
Writer(s)
Pat Mills
Director(s)
John Ainsworth
Purchase From: