0 out of 0 found this review helpful.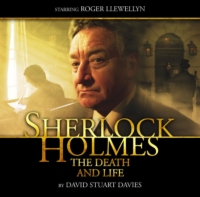 9
Reviewer Says:
No previous stories required.
"The Death and the Life" is another one man play starring Roger Llewellyn and written by David Stuart Davies. The story is a mix of fact and fiction as it centers upon Arthur Conan Doyle's efforts to rid himself of his most famous creation once and for all with the writing of, "The Final Problem" and failed.

"The Death and the Life" it imagines Holmes and his fellow characters reacting to Doyle's actions and scheming. Doyle's disinterest is reflected in a hilarious scene where Holmes describes a madcap adventure to a snoring Watson. The story is bolstered by the use of Doyle's own journals and letters. Another great scene is the one which Holmes learns he's a fictional character.

"The Death and the Life" with its light comedy and heavy symbolism is a story about a literary creation whose popularity transcended the writer who created him. The play is helped by another strong performance from Roger Llewellyn who manages to perfectly portray all the characters and angles of this very deep and well-written play. Overall, this is another story that's a wonderful listen for fans of Sherlock Holmes.
0 out of 0 found this review helpful.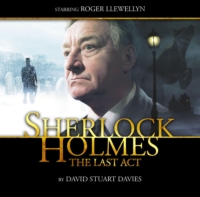 8
Reviewer Says:
No previous stories required.
"The Last Act" brings Roger Llewellyn's long running Sherlock Holmes one man play to audio. The story finds a reflective and somber Holmes reflecting on his life and career after Watson's funeral. It's an emotional and occasionally heartbreaking performance as Holmes reflects on his friend and his career. "You never appreciate the best things, the best people until they're gone." Of course, not every moment is somber. There are humorous moments as Holmes will reflect on one of his friend's oddities or on Lestrade's unremarkable career that saw him never rise above Inspect.

The play covers a variety of ground. From "The Abbey Grange," to "The Speckled Band," "The Final Problem," and "The Empty House" to "The Hound of the Baskervilles," and many more, Holmes offers his reflections on his cases and it's a Tour de Force performance.

I enjoyed the second half far less as it offered insights into Holmes' dark secrets including his little discussed childhood. On one hand, this explained Holmes being merciful in one particular case. On the other, there's a certain modern conceit that tries to explain everything anyone does as a result of some childhood trauma to provide motivation which can be seen in superhero fiction where so many characters origins are being rewritten reflect that sort of trauma. And while that can play a role in people's lives. It becomes somewhat monotonous in fiction when no one ever does anything good, noble, or heroic a parent was killed or was abusive, or some other trauma occurred to explain it.

I also didn't like the way Holmes' drug use was addressed. In the books, Watson claims to have "weened him off" cocaine. However, the play insists that Holmes' use continued just unknown to Watson and it leads the play into a dour place. While some would argue that this is more realistic than the books (which removed the cocaine habit as it became far more socially unacceptable) and it might be clever to undermine audience expectations by moving from downbeat to depressing, I wasn't pleasantly surprised by the turn.

Still, the play is well-written even if I have issues with the tone, Llewellyn's performance as Holmes (and twelve other characters) is pitch perfect and thoroughly engaging. He captures Holmes as a man trying to come to terms with the greatest loss in his life as a lifetime of emotional restrain begins to ebb away. I only wish the play had a more satisfactory conclusion.
Review By
komodo
6/4/15 5:10 pm
2 out of 2 found this review helpful.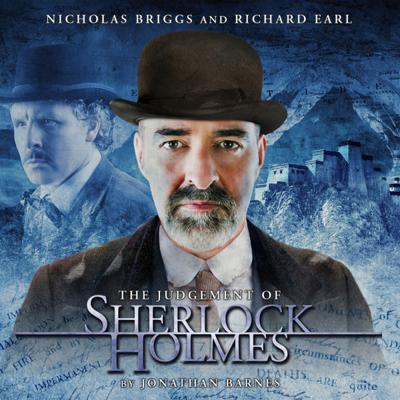 8
Reviewer Says:
No previous stories required.
While Ordeal of Sherlock Holmes was presented as four distinct, yet linked stories, Judgement is really one long story in four parts.

Holmes is in Tibett, presumed dead. During this time, both he and Watson stumble upon a complex plot which they each work on from seperate directions not knowing the other is also working on the case. In many ways this is a clever device, but it also means we miss the chemistry of the two working together.

We are introduced to a small cast of new and returning characters who all play their parts well.

A highlight of the series is when we hear Watson investigating without the aid of Holmes and finds himself forced to cross a line using threats and violence to resolve matters.