1 out of 2 found this review helpful.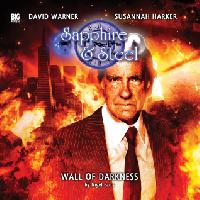 7
Reviewer Says:
Previous stories required!
A post-apocalyptic San Francisco is the intriguing environment for this darkly absorbing psycho-drama. Unfortunately Sapphire and Steel are given little to do in the first 3 and a half parts (which, considering this is the series finale, feels wrong to me). The remainder of the story wraps up the investigators' story in a way which felt repetitive and unoriginal. Ultimately quite an unsatisfying story which is a shame because there's a lot of good material here, not to mention a stand-out performance by Louise Jameson.
3 out of 3 found this review helpful.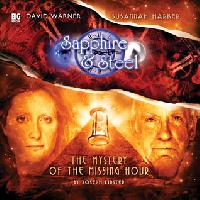 10
Reviewer Says:
No previous stories required.
Depending on your taste for post-modernism, this could be a love it or hate it affair. But personally I loved it. Usually I'm not a big fan of Joseph Lidster's style but have to take my hat off to him here with a fantastic script. Very funny and clever but with a suitably dark and cold undercurrent fitting the world of Sapphire & Steel. The cast are excellent and it's a treat to Colin Baker in a non-Who role. An excellent play... to be sure.
Review By
MTL
9/13/12 3:47 pm
0 out of 0 found this review helpful.
With three epsiodes of uneasy build-up to a truely disturbing cliffhanger (which if you dont want to know is revealed in the review below), 'The School' looks set to be a classic S&S story - plenty of good twists and uncomfortable scenes that keep you interested. The guest cast are phenonemal, getting the balance right of portraying the characters as beleivable teachers who increasingly show an extreme monstrous side; at times the latter seems like a slightly exaggerated (emphasis on slight) version of the former. It's great to see Guerrier and the sound design team exploiting the location provided, excellently excuted: the constant use of screaming chaotic children gets the tone spot on. Warner and Harker are as dependable as ever, proving to be just as definitive as McCallum and Lumely were as the agents - they are particularly impressive here where they find themselves gradually out of their depth.

However, the final episode has to form some sort of resolution, which is satisfying to some extent but could have been a bit more clear - from what I understand it is very tragic. But instead of spending time on giving the audience a bit more insight, Guerrier focuses on a scene of unnecessary body horror - it is shocking and effective initially but soon proves to add nothing to the story except to gross-out the audience. Time could've been spent enhancing the tragedy of the story rather then trying to disturb the audience one last time.

Despite a flawed final episode, this is well woth getting