Review By
MTL
9/13/12 3:47 pm
0 out of 0 found this review helpful.
With three epsiodes of uneasy build-up to a truely disturbing cliffhanger (which if you dont want to know is revealed in the review below), 'The School' looks set to be a classic S&S story - plenty of good twists and uncomfortable scenes that keep you interested. The guest cast are phenonemal, getting the balance right of portraying the characters as beleivable teachers who increasingly show an extreme monstrous side; at times the latter seems like a slightly exaggerated (emphasis on slight) version of the former. It's great to see Guerrier and the sound design team exploiting the location provided, excellently excuted: the constant use of screaming chaotic children gets the tone spot on. Warner and Harker are as dependable as ever, proving to be just as definitive as McCallum and Lumely were as the agents - they are particularly impressive here where they find themselves gradually out of their depth.

However, the final episode has to form some sort of resolution, which is satisfying to some extent but could have been a bit more clear - from what I understand it is very tragic. But instead of spending time on giving the audience a bit more insight, Guerrier focuses on a scene of unnecessary body horror - it is shocking and effective initially but soon proves to add nothing to the story except to gross-out the audience. Time could've been spent enhancing the tragedy of the story rather then trying to disturb the audience one last time.

Despite a flawed final episode, this is well woth getting
Review By
jolyon
7/25/12 2:40 am
0 out of 0 found this review helpful.
I think this story was the highlight of the series for me. There were some interesting ideas thrown around and Susannah Harker remains a joy to listen to. Poor Steel isn't around much in the second episode, but David Collings as Silver presents a more interesting character anyway.

If the TV show was like these audio dramas, then it must have been quite slow and very miserable, but presented with a couple of wonderful leads. I'm sure I would have spent my whole time hoping for a guest element of the week.

Whilst I've got the next two series standing by, I'm in no rush with these releases.
Review By
Tim90
8/26/11 2:40 pm
0 out of 0 found this review helpful.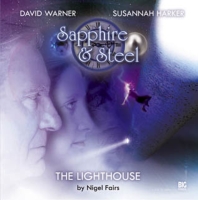 8
Reviewer Says:
No previous stories required.
The Lighthouse is the fourth release in Big Finish's series of Sapphire And Steel audio adventures and has been on the recieving end of a fair bit of criticism. I must admit to being a sucker for storys set in lighthouses as they can be truly spooky places and the idea of a Sapphire And Steel story set in a lighthouse appealed to me.

Penned by Nigel Fairs The Lighthouse is a particularly brutal affair featuring the two elements trying to stop time breaking out once again while also bearing witness to an horrific murder. For most of this story Sapphire And Steel appear to be in limbo, being able to observe but not able to interfere with events on the lighthouse. The lighthouse itself is caught in a time storm meaning echos of the past, the present (in this case being 1972), and the future (2004), are all jumbled together. At first this can be quite confusing for the listener but once you know whats happening it is an extremely good idea which I felt worked quite well.

The Lighthouse is not without its problems however. It certainly would have benefitted from being longer as it did feel a bit rushed at times and as I have already said it is a particularly brutal story. Indeed it is hard to imagine this story being transmitted on TV as it contains a very bloody murder, hints at many more murders taking place, a cast of rather unlikable characters, and a lot of sexual subtext.

In conclusion The Lighthouse really is a love it or hate it story and while I admit it isnt without its problems it is still worthy in my opinion of a rating of eight out of ten.