0 out of 0 found this review helpful.
I found this a bit slow to start with but it has a great array of characters. There is some rather fantastical imagery and the story itself is ok. Carol is great as Susan who has much more depth of character here, and Geoffrey Bayldon as the Doctor does very well indeed. Even though this doesn't do much wrong I just found this rather uninvolving and a bit too long. At least there was a decent twist at the end, and a rousing ending.

0 out of 1 found this review helpful.
Deadline is character driven and hard to pin down. It's full of disillusioned and character's constantly disappointing each other at very turn. It's an anti-hero protagonist in a world of opposites. Funny though out "I don't love you so sod off!", is a line in particular that typifies its dark humour. Given that Mark Gatiss was part of league of Gentlemen you would expect him to write something like this. Shearman is obviously a talented writer and it's a crying shame he isn't writing for the new series. I only have one real criticism and that is what's the point? OK, I get that it's an exploration of an alternative reality but I couldn't help wondering where it was going. A truly delightful journey but aimless. Striking imagery and masterful writing combined with superlative acting and innovative ideas.
0 out of 1 found this review helpful.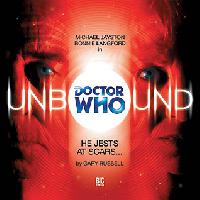 10
Reviewer Says:
No previous stories required.
Personally I think it works really well. Mel is much darker and in a lot of ways she steals the show, although she has no direct impact on events as such. Definitely one for continuity nerds and not beginners but this is about what possibilities and role reversals, and this includes lots of past events being altered and draws in many alternative outcomes. Here the Valeyard is the protagonist with his companion (Ellie), and Mel is the antagonist. All the performances are good but the atmosphere is weird and I am not always sure where they are supposed to be. Everywhere sounds like a cave or graveyard. If only 'The Ultimate Foe' had been like this. Very Dystopian and existential, I love it!