0 out of 0 found this review helpful.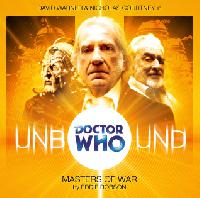 9
Reviewer Says:
No previous stories required.
'Masters of War' was written by Eddie Robinson and directed by Jason Haigh-Ellery. 'The Unbound' has dealt with alternate Doctor's and what if scenario's, and has been one of the most entertaining Big Finish ranges with its many highs and lows. 'Masters of War' is the sequel to 'Sympathy for the Devil'. This is my favourite of the 'Unbound' range, it's more balanced than either 'Auld Mortality' or 'Deadline' and has the same inventive story telling that made those titles so great.

The Doctor has decided to take his new friend Alistair on a trip and after have a time of it they end up on Skaro. After agreeing to help the Thals fight the Daleks the Doctor discovers the existence of Davros the long lost Dalek creator. The Doctor and Alistair capture a Dalek and re-programme it to think it's Davros causing infighting between Daleks that can't decide whether Davros has undergone full Dalek conversion. While the Daleks squabble and fight our heroes strike, but there is a surprise visit to the planet from the Quatch. The Quatch are beings from another dimension.

Nicholas Courtney is the Brigadier, doesn't matter which version he just is. David Warner on the other hand feels like an archetypal classic series Doctor even though he never was. So the Doctor creates a divide in the Dalek society then allies himself with the Daleks to stop them allying with the Quatch who have formed a union with Davros. Groups are splintering everywhere and there is a final wedge to driven yet. This Doctor is a master manipulator and although like our third Doctor this incarnation is more steely. Davros played by Molloy is an alternate version as are the Daleks. These versions are ostensibly the same but with differences. The casting is faultless, not just the main characters who are mostly played by their original actors but also the supporting actors. The music and production values are consistent with the rest of the range but the Quatch voices are ridiculously quiet at times. The Quatch grew on me over the course of the story, as the hand they played in the Daleks creation became clearer.

Each story of the range has tried to present us with a moral dilemma, what if scenario or perhaps both. In this one Davros has had a problem with his creations. If he removed all pity his creations turned on him or turned away from him, but with pity they lacked the killer instinct and became in his eyes weak. There is some great dialogue because of the philosophising, and the story has more depth because of it. The Doctor realises he may have misjudged the Daleks who re-invaded Skaro to try and protect the Thals from the coming Quatch invasion.

Lots going on and some nice ideas, but still the writer fall back on the human strength of acting illogically defeating superior logic as a battle strategy. I have enjoyed this series very much; this one is definitely epic and very good indeed whilst retaining a lot of familiar facets of a Daleks story it also allows us to see things in a different light.

0 out of 0 found this review helpful.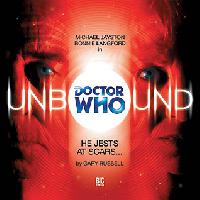 10
Reviewer Says:
No previous stories required.
Personally I think it works really well. Mel is much darker and in a lot of ways she steals the show, although she has no direct impact on events as such. Definitely one for continuity nerds and not beginners but this is about what possibilities and role reversals, and this includes lots of past events being altered and draws in many alternative outcomes. Here the Valeyard is the protagonist with his companion (Ellie), and Mel is the antagonist. All the performances are good but the atmosphere is weird and I am not always sure where they are supposed to be. Everywhere sounds like a cave or graveyard. If only 'The Ultimate Foe' had been like this. Very Dystopian and existential, I love it!
0 out of 0 found this review helpful.
I found this a bit slow to start with but it has a great array of characters. There is some rather fantastical imagery and the story itself is ok. Carol is great as Susan who has much more depth of character here, and Geoffrey Bayldon as the Doctor does very well indeed. Even though this doesn't do much wrong I just found this rather uninvolving and a bit too long. At least there was a decent twist at the end, and a rousing ending.