Review By
MTL
7/10/13 2:28 am
1 out of 2 found this review helpful.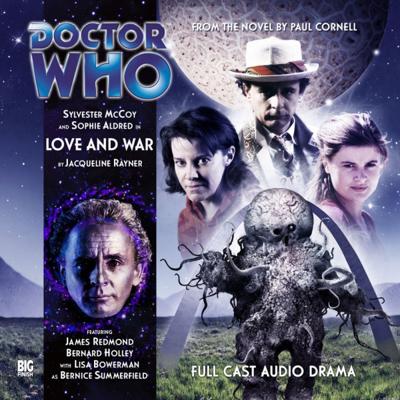 5
Reviewer Says:
No previous stories required.
I'm sure that Love and War is a great book but it doesn't translate well to audio. The production itself is as good as any other BF play - a decent plot, interesting characters, fascinating development for the Doctor and Ace, and a fabulous soundscape. However, none of this is allowed to be enjoyed as the story is forced to rush long and compress any drama into as short as space a time as possible. There is this permanant sense that something is missing from the scenes and that I should be more invested than I am.

It's dissapointing because there is a really good audio adpatation in there somewhere but it needs a longer running time. If you drift off for too long, you'll be completely lost. A decent attempt but since this is not their first attempt at adapting the NAs (it is in fact where they started as a company), it is a strangely dissapointing experience. It doesn't work as an audio play in its own right - it's far too rushed and needs to let its ideas and characters develop more. Without reading the novel, at times I felt a bit lost about the itnricate parts of the story such as Ace and Jans relationship.

Saying that, it did make me want to track down the original novel, so definitely not a total waste of time.
0 out of 0 found this review helpful.
This is simply hilarious, a highly entertaining and brilliantly executed riff on the film noir genre. There's a wealth of funny commentary, comic one-liners and a number of curious plot twists, so the tale never gets boring or predictable. The Doctor's presence in the story is slightly different from what I would have expected, but somehow it works really well and just adds to the fun of it all. Colin Baker sounds like he's having a whale of a time and Robert Jezek is of course absolutely perfect as Frobisher.
0 out of 1 found this review helpful.
Oh dear. How to ruin a brilliant book. I guess this audio wouldnt be dreadful if i didnt know the book so well so i have tried to be objective with my rating but i am stunned that the adaptation is so poor. Ace and jans relationship is dealt with so badly that it makes no sense at all and Benny comes across as if she pretty much sits around doing nothing. The direction also seems to lack any real sense of drama - the great climax should be quite epic but failed to make any impression on me whatsoever.
I was really looking forward to this and still hope Big Finish adapt more of the Virgin range but hopefully do a better job next time