3 out of 3 found this review helpful.
What a real cracker of a story - excellently written, excellently paced, excellently enacted, and the sound design is very effective and immersive. The story is very mathematics-based, suiting the return of Adric, I suppose - the story manages to be both simple and smart, and to feel plausible. It moves along with great energy, and it never appeared to drag at any point, for me. This is the kind of story I would recommend to people new to Big Finish audios, as a way to introduce them to the kind of quality Big Finish can produce. A really solidly entertaining story.

I think looking at this box set overall, this story is the stronger one of the two. However, I rated the other story (Psychodrome) a 9, so that story is no slouch either! The whole set is a great reintroduction to the classic crew of that period. Highly recommended.
2 out of 3 found this review helpful.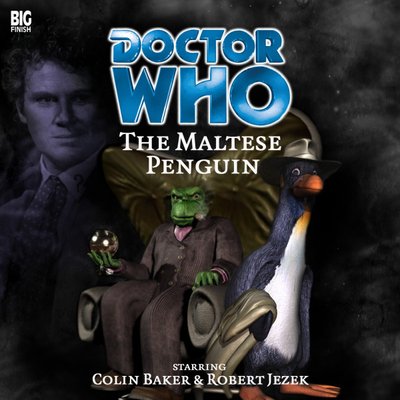 6
Reviewer Says:
No previous stories required.
This is a sort of Dr Who take on the American detective story, with Frobisher taking on the mantle of the P.I. with the Dr, dropping in and out of the story. The story is the normal fare for a 1940's 50's style B movie. Playing up to all the normal stereotypes, intertwined with a splash of SI-FI with Frobisher, Dr, and a Evil Genius, who to be honest conjures up the Baron Silas Greenback, that will mean nothing to some (http://www.dangermouse.org/charact.html) will explain all.
The story is brisk and moves along, there are however no real surprises, but it is exactly what this release is, a supplementary release, and as such makes for a welcome break from full on saving a world or two...
3 out of 3 found this review helpful.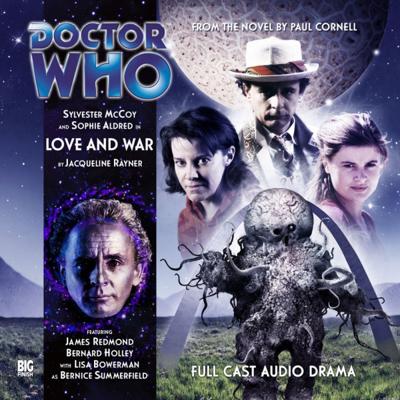 7
Reviewer Says:
No previous stories required.
I am slightly torn about this release and having listened to Love and War a few times now, I'm still not entirely sure how to rate it. It's certainly different from the usual Big Finish output, which, to an extent, is probably the point of this adaptation.

First of all, I have to admit that I've never read any of the NAs and I didn't know anything about Love and War except that it is the introductory story for Bernice Summerfield. Consequently, I didn't have any preconceptions as to what this adaptation would or should be like, but I'm not entirely convinced this is a good thing in this particular case.

The problem, for me, was that I felt the entire time like I was running in order to catch up with the plot - but never quite getting there. In the end everything more or less falls into place, and I have to say, the story worked a lot better the second and third time I listened to it - Love and War is a release that definitely benefits from a repeat listen. But even now there are some elements I can not entirely grasp or put into place.

The weird thing is, I didn't have any trouble following what was actually happening and who everybody was - in fact, both the plot and the characters are memorable and well-defined. But throughout the adventure I felt like there is something I was missing, something I should already know about, probably from some of the previous novels, and this feeling made for a rather peculiar listening experience.

Maybe it is more detailed in the original, maybe events are slowly unfolding over a longer period of time, I don't know, but one of the main aspects of Love and War, the relationship between Ace and Jan, seems completely implausible here. The way they talk about trusting each other and about wanting to get married after only a couple of days together doesn't ring true at all. I'm not sure how old Ace is suppossed to be at this point in her timeline, but even allowing for teenage infatuation, this is a bit too much for it to be in any way believable. But then Ace is portrayed as fairly immature and shouty throughout the story. Her behaviour might actually be in character for NA-Ace, but if so, I definitely prefer Big Finish-Ace by a very long chalk.

In addition, the terrible kissing sound effects really didn't help to sell the relationship to the listener. Normally I would probably not even notice this, but it's such a pivotal scene and it just sounds completely fake. Apart from this however, the sound design is absolutely superb. The musical cues are beautiful and very effectively help to distinguish between the different realities and memory sequences easily. And Gary Russell gets to show what a brilliant director he is, weaving all the parts together in an expert fashion.

Despite my earlier criticisms however, there is still a lot to like about this release, first and foremost Professor Bernice Surprise Summerfield. She really is an outstanding character from the start and she immediately has a great rapport with the Doctor. She is intelligent, independent and fun. She has a strong moral compass and there are already hints to an intriguing personal background. And Lisa Bowerman plays the character perfectly. This probably isn't surprising, given she has been doing this for years now, but she really got me hooked on Benny immediately.

The overall tone and themes are more adult compared to the majority of Big Finish audios. Admittedly, this isn't something I normally go out of my way to look for in a story, but here it worked extremely well and gave an interesting edge to all the supporting characters. Christopher in particular really stands out as a sympathetic and well-rounded personality. But all the others are memorable aswell and everybody in the cast manages to bring this diverse group of people to life beautifully.

Overall I found this story rather enjoyable to listen to. It offers a intriguing glimpse of a slightly different version of Doctor Who and serves as a great introduction to the character of Bernice Summerfield. If Love and War is a typical example of a NA story, I wouldn't be opposed to Big Finish adapting more of those novels.