1 out of 1 found this review helpful.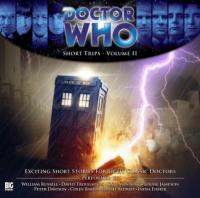 7
Reviewer Says:
No previous stories required.
While it may not be the most interesting of the Short Trips series, the one thing I really like about Chain Reaction is it's simple story idea. These short stories really need to hit the ground running to make any sort of impact, and that's one thing that this story does. To my mind, it's an excellent story that is a near perfect excersize in economical storytelling.

The premise is simple, but effective. It can be summed up in a few words: the Doctor, using a pound coin, attempts to get a bag of jelly babies. Now, this being the the Doctor, it isn't quite the normal 'go-and-ask-for-some' that you'd expect. Instead, he turns it into a complex temporal game, which becomes very complicated very quickly. However, Darren Goldsmith has kept the sequence of events relatively simple, so that, given it's limited running time, it is able to maintain it's sophistication without the story become horrendously over-complicated. I do have one niggle with it, however, and that is it's never really explained how time is written over, so that the Doctor can have another shot at it. I suppose that I could just enjoy the story, but I feel that this is really unexplained at the end, and it's a sizeable enough niggle for me to bring it up. Certainly, this story is much more high-concept than some of the other Short Trips (A True Gentleman & The Five Dimensional Man spring immediately to mind), so Louise Jameson has more description of events, rather than characters to narrate. With Nick Briggs and Ken Bentley steering things, Louise doesn't put a foot wrong, ably bringing the material to life. That, when combined with Daniel Brett's understated score, means that, as a production, this is incredibly polished.

Chain Reaction is Doctor Who at it's most imaginative, and that really makes for a sucessful Short Trip. Certainly there is one or two niggles, and it's not quite as dymanic as I would have hoped, but is still an excellent story that will easily keep you entertained for 20 minutes or so.
Review By
saroz
6/2/13 5:22 am
5 out of 5 found this review helpful.
Absolute sheer brilliance. I never hand out 10s, but that's the only score I can give this one. It's beautiful, lyrical, even a bit haunting, and it rather adeptly demonstrates the breadth of possibility in even a tiny little Doctor Who story. The story itself is very small, but the scope is enormous, and our familiarity with the Doctor, Ian, and the TARDIS means we can take what seem like disparate elements at first and weave them together to get a very powerful result. Really, one of the best pieces of Doctor Who fiction I've ever seen in any medium, and all the more enjoyable for the wonderful reading by William Russell.
Review By
saroz
6/2/13 5:17 am
1 out of 1 found this review helpful.
This story wants to be something amazing - that much is obvious. And, truth be told, there are some really interesting pieces of imagery within. It just isn't much of a story, or rather, it feels like the middle of a story, without a beginning or an end. It asks so many questions of the listener and never answers a single one, which can only lead to frustration. I wanted something - indeed, anything - concrete to hang on with all the mystery and strangeness around. In fairness, I wouldn't mind reading or listening to something else by the same author, but I would hope that his next work would at least try to meet me part of the way.