Review By
komodo
2/26/15 4:35 pm
0 out of 0 found this review helpful.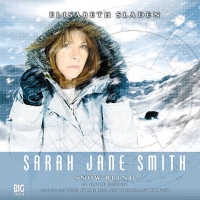 8
Reviewer Says:
No previous stories required.
A claustrophobic thriller. Snowblind takes a small cast in an isolated location to create a "who-dun-it".

Added to this, is the effect of snow blindness. For a good part of the story, Sarah loses her vision which fits perfectly with the audio medium as hse becomes as dependant on sounds as we the listener are.

I am not particularly fond of the supporting characters (Josh and Will) and would rather hear the Bannerman Rd crew, but the drama and the quality of the acting lift the story.
1 out of 1 found this review helpful.
Okay, so I didn't like the whole doomsday cult angle of these stories. But this one overcame that angle and was actually a very suspenseful and riveting adventure. I was actually okay with the cult arc for this story as it led to all of the conflicts. Will's secret and the effect that all of this is having on Josh were especially interesting to listen to as those actors are very good.
1 out of 1 found this review helpful.
The ending left me quite unsettled, especially since there were no more Sarah Jane stories by Big Finish. Did they really intend to leave things they way they are at the ending? Since we see her again in School Reunion and then in the SJ Adventures, that is all moot now I guess. This story, once again besides the doomsday cult angle, is a good one, but my suspension of belief was ruined by thinking that Sarah Jane would be able to handle herself up in space (as the picture on the audio jacket shows). That led me to rank it a bit lower than I would have otherwise.