Review By
SkyTwo
11/5/13 9:28 pm
2 out of 3 found this review helpful.
Ugh. Not only is the story unfocused and meandering, but it's almost never a good idea to try and recreate legendary personalities in fiction-- generally a terrible, terrible idea unless you're a wonderful, wonderful writer. In this case, Wilde just comes across as smarmy and petulant, which wouldn't be a problem if the point was to present this as a deliberately deconstructionist take. But the author genuinely seems to be attempting to portray him as world-weary, charismatic, and preternaturally witty. The result is some extended banter that isn't much more than a glorified "Who's on first" routine. There's also a continuation of the regrettable trend toward using Leela's thickheaded literalism for comic relief, and the central mystery is just sort of goofy. It attempts to both tie in with the work of Oscar Wilde and to be a mind-blower on a cosmic scale, but it never really gels. The Wilde tribute just seems lazy, and (spoiler?) "cosmic horror with Dick and Jane" just plain doesn't work. Certainly one of the more ambitious entries in this series, but also one of its low points.
Review By
komodo
11/4/13 3:22 pm
2 out of 2 found this review helpful.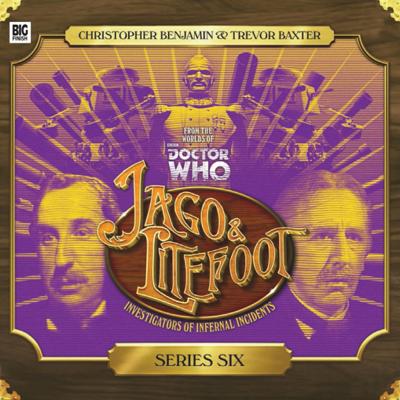 10
Reviewer Says:
Previous stories required!
Corks! This is a triumph! Even an excellent episode of estimable entertainment!

The trial of George Litefoot rounds out the series brilliantly. I found I was missing Ellie and Quick in the first two parts, but once again they have risen up to be major characters here. Jago has some brilliant moments while Litefoot goes from insightful scientist to deadpan depressed and back again. Once again it is a triumph for Jago as he puts his theatre skills to use.

Well written, well directed, well acted, great end of the series, great cliff hanger for next season.

One might say I actually quite enjoyed this one. Very well done. Congratulations are in order.
Review By
komodo
10/28/13 4:48 pm
0 out of 0 found this review helpful.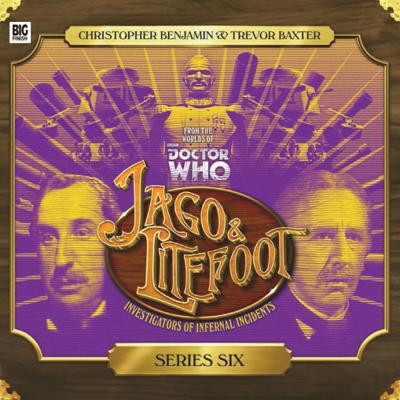 10
Reviewer Says:
No previous stories required.
This is an 11 out of 10 story. I marked it down to a 10 due to a couple of small flaws.

It is a great play with strong performances from Jago and Litefoot as well as Ellie and Sgt Quick. It's probably the best we have heard of Quick even though he has a small part.

The story builds across the episode. There is suspicion, confusion, conspiracy and revelations leading up to a great battle (Jago vs the machines is unbelievable. He is the most dangerous empressario on Earth.) and this is followed by the best cliff hanger yet in Jago and Litefoot history. This really is top quality.

My couple of concerns were trivial. Jago referred to the sentinels as pepper-pots. Seriously there is only one enemy in Doctor Who that can be called that. Mentally I had been picturing them as clockwork versions of "number 5 is alive" After that I felt the final cliff hanger to be let down by production notes. Other than that, this was excellent. Great plot, great characters and great results.

I can't wait to hear how trial goes.