Review By
MTL
6/29/14 8:08 am
3 out of 4 found this review helpful.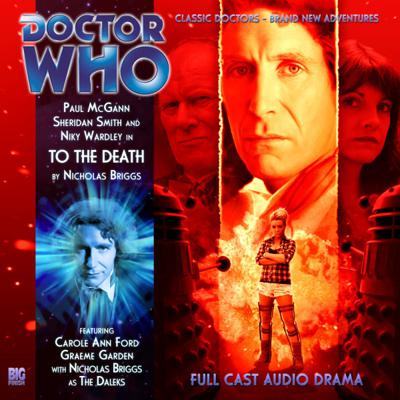 10
Reviewer Says:
Previous stories required!
I daren't say much about this story and I would advise knowing as little about this story going in as you can. (Including avoiding reviews below as some have spoilers, although with appropriate warnings) The twists and turns are slight but mostly centre on the characters. Having been invested with them for so long, what they undergo in this story really packs a punch. The final 10 minutes are tear-jerking and anyone not moved by it has a heart of stone.

A fantastic end to a brilliant rage which feels so right and yet is incredibly heart-breaking.

A stand-out story that really lingers in the mind afterwards.
Review By
MTL
6/29/14 8:05 am
3 out of 4 found this review helpful.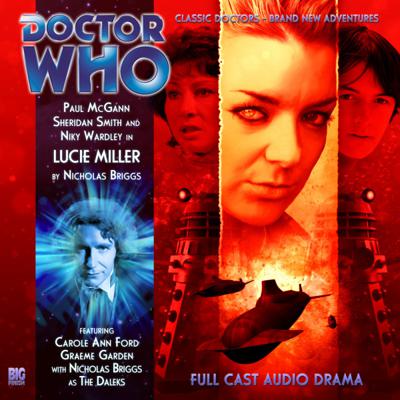 10
Reviewer Says:
Previous stories required!
While the plot seems like a slightly tweaked version of Dalek Invasion of Earth, Briggs fulfills his promise in the behind the scenes interview that a familiar plot allows for greater character focus. By having Lucie narrate the story, the horrors of the invasion get an extra dimension that makes it hit home harder. Smith gives it her all and makes a very welcome return to the EDAs.

The cliffhanger feels a tad arbitrary with little threat but the rest of the story is bleak, dramatic and gripping. Big Finish rarely seemed to avoid having the first part of its two-parters seem like set-up but this is still entertaining set-up that leads in nicely to the finale.
2 out of 3 found this review helpful.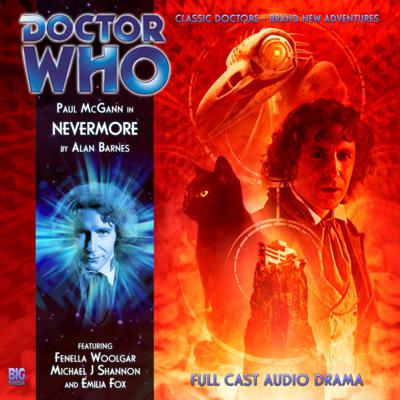 6
Reviewer Says:
No previous stories required.
This instalment of the fourth series of Eighth Doctor Adventures is definatly what I would term the rather more 'oddball' instalment. It defiantly a very odd story that fits in more with the likes of Immortal Beloved, Dead London or The Scapegoat rather than Death In Blackpool or Situation Vacent. Usually, these 'oddball' stories are incredibly variable, and sadly, that remains the case with Nevermore. Certainly it has some strong ideas (like all Alan Barnes stories), but the main thing that it lacks is pace. It just seems to move so slowly that a lot of all the best bits of the story are crammed into the last 10 or so minutes. However, unlike the 'oddball' stories listed above, it also has some memorable moments, like the idea that the Time Lords are manipulating the events or us finally seeing The Doctor's meeting with Poe. Generally, however, it's a very average story.

The plot of this story is twisty in it's nature, and sadly therein lies part of the problem. Some of the twists, in particular the innterigation sequence at the beginning of part 2, just make no sense. There's just too many red herrings and lack of answers that make everything distant and with an almost clinical feel. It's like Barnes has assumed that we, the audience, has assumed knowledge of both Poe's works and the events on Nevermore, despite the fact that I don't think it's been mentioned in another Doctor Who story before or since. It requires too much previous knowledge of events that we can't gain knowledge of beforehand and it just makes the story too bogged down upon all these events. However, it's visual imagery is certainly impressive and it is something that we have quite a good grasp of. Whenever we get a story that's built around visual allusions, there much easier to visualise than stories built around concepts we have no knowledge of. It gives us something to focus on, and, for an audio script, it's one that's incredibly visual. With Ravan robots, two torture scenes torn out of some of Poe's most famous work (if I say The Pit And The Pendulum, you'll get the idea) and a black cat that stalks the sidelines, it's a script that one wishes was made for TV Doctor Who. I could have certainly seen it fitting in with Matt Smith and Jenna Coleman, it's that visual. However, it also suffers from the same faults that a lot of stories that season suffered - trying to cram so much plot into 45 minutes. Despite Nevermore being 15 or so minutes longer, it's protracted opening part and the aforementioned interrogation scene means that revelations have to come out of thin air, unlike Barnes' careful plotting of say, Brotherhood Of The Daleks.

The characters are interesting, but only because of there almost hackneyed nature. Wendigo - apparent war criminal, Uglosi - mad man with power and obsession, Berenice - apparently friendly ward, but is really shape changing monster. All these character tropes we've seen before and non of them are really commented upon here. For example, the character of the Pilot is killed at the end of part 1. Are we ment to feel sympathy? Are we ment to be upset or enraged? Well no, because we don't know him well enough. He's just generic cannon fodder for the monster. Which would be fine, if he was killed off in the first five minutes. Instead he's kept loitering around for half the story until he's bunked off. However, the acting, with one exception is very good, especially from Paul McGann, who must have been recording this with a massive grin on his face. Tamsin doesn't make a massively deep impression here, but Niky Wardley is fantastic, especially in the scene at the end where she's reading Poe. Michael J Shannon, however, is the great exception. I feel he goes over the top a little too much in the moments when his character is terrified of the cat. It's a bit too comical and not very real in my opinion. However, the same cannot be said of Matthew Cochrane's sound design, as he has managed to make the world of Nevermore feel very real and brings some of the stories madder elements to life perfectly. Coupled with Jamie Robertson's music, they make for some excellent work on the aural soundscapes of the story.

At the end of the day, Nevermore is a story fraught with problems, but still manages to come out an above average story. It's characters are slightly too cliched, there is some off kilter acting and the pace is all over the place, but there is still some wonderful visual imagery and a plot rich with ideas and potential. It may be no dimond, but it's still a pretty stone. Tarnished, but still pretty.