2 out of 3 found this review helpful.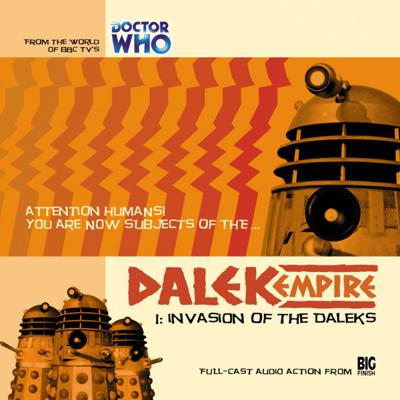 9
Reviewer Says:
No previous stories required.
The opening instalment of this epic has a sense of scale and doom that most Doctor Who stories lack. And the main reason for that is simple: most Doctor Who stories or Who spin offs have relatable characters who seem invincible and that cannot be defeated. However, this is very different. You see, the main Who element is the Daleks. And the Daleks are the bad guys. That means that every character that we meet can get killed at any time, without remorse or feeling. The general tone of Invasion Of The Daleks is one of real darkness and a tangible sense of an alien invasion being seen through two human eyes. It makes for one of the one of the most gripping pieces of drama that Big Finish have ever produced and it's easy to see why this series is considered one of the best things to come out of Big Finish towers and from the pen of Dalek aficionado Nick Briggs.

This story is more concerned with setting up the series as a whole rather than actually answering the reasons as to why the Daleks have invaded Vega 6 or the identity of the narrator. And while it is a little frustrating that we don't get any answers to the various questions that this story poses, it's nice to see a fully, interconnected narrative with lots of threads that the story will come back to later I expect. The individual story revolves around a Dalek invasion of one solitary planet, but there influence begins to spread throughout the galaxy. Never before has the Daleks have been portrayed so terrifyingly and they are the true stuff of nightmares here. There not just indiscriminate killers here, they use psychological warfare against there prisoners. Giving them hope to make them more effective killers is one of there more terrifying ideas. The Daleks here have the same sense of cunning that they have in Power and Evil Of The Daleks, and it's clear that they have been written by a mind like David Whitaker. One that knows them well and one that knows how to make them innovating and different.

The cast in this are fantastic, especially Sirens Of Time's Sarah Mowart, who gets her reward for play four very different characters in that story. And she manages to create a great character in Susan Mendes, managing to make her feel very human and show us an ordinary human trying to survive in extraordinary circumstances. Another actor who gives his all is Blake's 7 Gareth Thomas, who manages gives us a very different character to Blake: hardened, warn down. I imagine that some will paint parallels with Blake, but frankly they are two separate characters. Finally Nicholas Briggs makes the Daleks absolutely terrifying in this story, making there harsh metallic tones contrast with the softer voices of the cast.

My only complaint about this story is that it is little more than scene setting, rather than trying to answer some of our questions. However, it's an impressive start to one of Big Finish's best loved series. And from this first instalment, it seems as if that is very much holding true.
Review By
komodo
10/24/13 7:06 pm
0 out of 0 found this review helpful.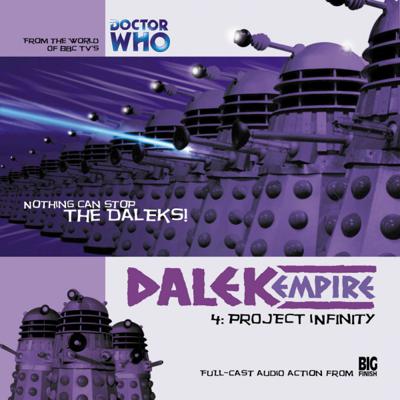 8
Reviewer Says:
No previous stories required.
For King and Country!
Project: Infinity has nothing to do with the Forge.

I was a little lost as it began by running off at a tangent in an effort to explain the end of the last story and set up the bulk of this story. The problem being one did not follow on well from the other and the introcued paradigm did not sit well within the whole.

Without Suze, Alby and Karlendorf had to drive the plot, but they did it poorly.

The second half did pick up though as total dalek war errupted. As a bonus there were units of special weapons daleks, which bumped my opinion of this up by a lot.

Who wouldn't love battles featuring battalions of daleks with special weapon units being used strategically?

Review By
komodo
10/20/13 9:13 pm
0 out of 2 found this review helpful.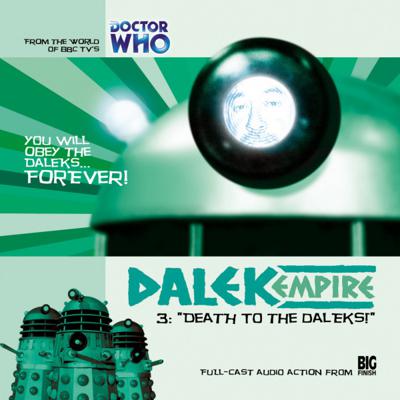 6
Reviewer Says:
Previous stories required!
I don't know if its the structure of the story, but I feel like I have missed something. There is some solid plot developing here. Suz is being placed in a more precarious situation than ever, but it felt like Karlendorf was toned down a notch and Alby was jumping a shark.
As part of a bigger whole, this is okay, but as a stand alone stories it fails.