0 out of 1 found this review helpful.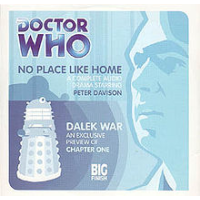 9
Reviewer Says:
Previous stories required!
The more fannish you are, the more you'll enjoy this story. Set entirely inside the Tardis, this adventure features shout-outs to past incarnations, past companions, and Tardis geography (or is that geometry?), all within a brain game that features Peter Davison at his most convincing. You'll love this if you Recommended for those who know their Who history, especially those who read the comic book adventures of the Fifth Doctor. Here's an excellent CD cover for you: http://modlounge.tripod.com/noplacelikehomefront.jpg
0 out of 0 found this review helpful.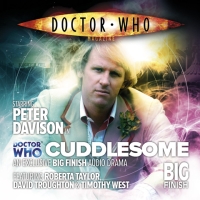 9
Reviewer Says:
No previous stories required.
For some reason, I've got a bit of a soft spot for evil puppet stories and this one really is a blast to listen to. I can see why some people might not like this or find it too silly (cuddly-but-murderous vampire hamster toys from the 1980s!), but I decided to just go with it and enjoy the story. If you want some genuine, serious drama, this one probably isn't for you, but if you're looking for a fun release, then Cuddlesome is highly entertaining stuff.
Review By
Eiphel
11/24/12 1:56 am
1 out of 1 found this review helpful.
Finally got around to giving this a spin; a nice slice of the Hartnell era for this 49th anniversary week. It's a lovely little tale and it's also got an undertone which is very much /about/ that very first TARDIS crew. Whilst Susan is no longer present, the interesting choice to set the story immediately following The Dalek Invasion of Earth allows The Revenants to serve almost as a coda to those events. A subplot that runs throughout the tale concerns how Ian and Barbara are affected by the way the Doctor parts with Susan, raising questions about how their own departure might come about, and how Susan's has - and will continue to - impact the Doctor. Honestly I thought this was such rich ground, and there was such a delicate range of emotions and uncertainties displayed by Ian and Barbara, that it could have supported an even larger part of the play.

William Russell continues to be a joy to hear, one of the most consistently wonderful audio performers in the Big Finish team. Not only does he bring the warmth and strength of Ian roaring straight out of the sixties, he also evokes the Doctor and Barbara with equal aptitude, so that we can really feel the influence on all three of Susan's departure.

Sharon Small is a characterful find too, matching her bold Janet against Russell's portrayals of the TARDIS crew and giving as good as she gets. She chides and gently mocks Ian, whilst she addresses the Doctor with more respect and some confusion, but in either case her 'spae wife' is a colourful character that gives as good as she gets.

Janet and her witchcraft are only one flavour in a rich brew of the Orkney Island folklore which the Revenants is steeped in. It's an unusual refreshingly original choice, and a combination of its fantastical qualities along with a degree of unfamiliarity with the source lore makes it highly reminiscent of a time when the Doctor Who universe was a lot less well known, a little bit more magical, and a lot less certain. A very appropriate atmosphere that reflects Ian and Barbara's own moods.

Atmosphere being something the Revenants has in spades, particularly in episode one. The majority of that first part is comprised of a twilight trek through a desolate bog, and it's an absolute triumph of production. In my minds eye, eery black and white visions of steaming, oozing mud, thick undergrowth and deep shadows filled the screen. Ian and Barbara's long and desolate march through the marshes was fantastically evocative. Whilst the later material is never quite at the same poetic pitch as this wonderful sequence, it continues to be strong. The glopular approach of the titular revenants is suitably skin crawling, and the sanctuary of Janet's hearth warm and comforting.

A fantastic end to the first episode feels tightly plotted and also very appropriate to its era, though it leads into a much heightened presence from the Doctor in the second episode which is, just slightly, weaker. Episode two focusses just a shade too much on lengthy expository dialogues, and whilst it's very true to the show the way in which the TARDIS crew reason out the nature of the revenants, I felt this triumph of empiricism was slightly at odds with the sense of uncertainty which otherwise underpinned the tale.

The ending is cute and well conceived - and renews a little sense of that earlier magic - but the Marsh family, who appear only fleetingly in the framing device, seem like they could well have been interesting characters if explored as major players in a story themselves. They certainly prompt a lot of thoughts to keep you going after the story ends.

The Revenants is a lovely little story in its own right, and it's also compelling as an exploration of Susan's departure in the previous story. If it could go further in its explorations, still you can't penalise a tale too hard for its greatest weakness being a desire to have more of it! A fantastic story, even if it weren't free. 7/10.