1 out of 1 found this review helpful.
8
Reviewer Says:
No previous stories required.
The Catalyst starts with an intriguing piece of framing narrative, which then leads into Leela's account of one of her adventures with the Doctor.
At first, her tale seems to be very small scale, but in the second half the scope of the story slowly gets bigger and unfolds into some unexpected directions. The ending is well thought-out and all the pieces of the puzzle come together nicely.
Louise Jameson's impression of the Fourth Doctor is ok (albeit not brilliant), but the rest of her narrations is absolutely wonderful. Timothy Watson works well as a strong counterpart.
The Catalyst offers a well-written, character-driven script, with good characterizations of both Leela and the Doctor. A great opening for Nigel Fair's original Leela companion chronicle trilogy.
1 out of 2 found this review helpful.
First off, you don't need to know anything about the Third Doctor era in order to understand the adventure at hand. However, The Rings of Ikiria is probably more entertaining, if you do know what happens to Mike Yates in the tv series, because the story offers some interesting insights into the soldier's character, really making use of one of the main strenghs of the Companion Chronicle format.
The nature of the alien threat is completely obvious as soon as it appears, but despite this the release manages to be entertaining enough, mainly due to some great character moments for Yates. Plus, the story is very evenly paced, so it never drags and doesn't outstay its welcome.
I am not particularly taken with Richard Franklin's Third Doctor impression, but his Brigadier is quite good and the rest of his narration is absolutely wonderful. He delivers a nicely nuanced and understated performance that really sells the story. Felicity Duncan provides the perfect contrast to him and shines in her two antithetic roles as Benton's collegue Mercer and the titular Ikiria.
There is a suitably militaristic theme to the music, but in some instances it is a little too obtrusive for my liking. Other than that the sound design is up to Big Finish's usual high standards.
Overall this release doesn't offer a particularly intriguing or original plot, but instead highlights some of the backstory of Mike Yates, which makes the story worth listening to.
2 out of 2 found this review helpful.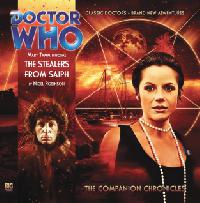 7
Reviewer Says:
No previous stories required.
The Stealers from Saiph is another story I thought was better than its reputation would have you believe. Granted, it isn't one of the classics of the range, but there is still a lot to enjoy.
Because the entire story is told by Romana, with no second voice added, this release is probably closer to an enhanced audiobook than most Companion Chronicles. Having said that, Mary Tamm carries it extremly well. She makes all the characters very easy to distinguish and knows exactly how to perfectly pace her reading.
Some parts of the story are a little slow and the Doctor is rather generic, but on the plus side there are a number of interesting and likable supporting characters and a highly evocative setting. The sound design is simply beautiful, with lots of lovely detail, which makes for a very atmospheric production.
Not the most exciting or innovative release, but an enjoyable listen none the less.