Review By
komodo
3/6/14 6:00 pm
1 out of 1 found this review helpful.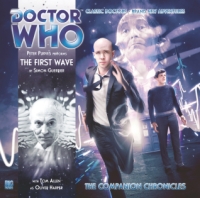 8
Reviewer Says:
Previous stories required!
Many of the Companion Chronicle use non-linear storytelling. Sometimes it works, and sometimes it doesn't. In this case the pre-empting of events seems a little forced and awkward.

Beyond that is quite a good story that continues Steven's spiral that will lead himn to ask the question "When do you know?" There is a cycle of sacrifice that he has witnessed and one friend after another has died (or seemed to die) He is maturing and you can really feel the importance of these stories in Steven's overall life.

The story itself concerns a mining operation in the Kuiper belt where the Doctor is ensuring the past remains unchanged (following on from a discovery in Cold Equations) while there, the team is involved in a disastous first contact with a power alien race. There are very few options and it comes down to the usual sceming doctor and self sacrificing companion with a destiny that the doctor feels is set in stone (later incarnations would have avoided fate without a second thought, but the First Doctor is still very vary of altering anything, especially his own fate.

So, there is a little of the timey wimeiness here, though it is obscured by a little of the story telling style and a lot by the Doctor's dishonesty. There is a lot of character building for Steven (who still has several TV episodes to go after this) but it all fits together in a story where new companion Oliver gets to experience more of the future and the world that he escaped.
Review By
komodo
2/25/14 11:44 pm
0 out of 0 found this review helpful.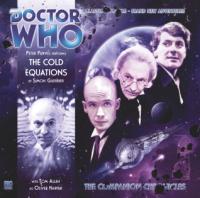 5
Reviewer Says:
Previous stories required!
Great acting and very good science. In many ways this was a great story, but I found that it felt a little disjointed. There were points where things seemed to just hop ahead or maybe I was just having trouble paying attention. I think perhaps so much of the story was a set up to the big secret rather than tell a story in its own right and this lessens it. Perhaps the story should have been longer and there was too much editing.
The secret too, left me underwhelmed. By the end I was just thinking "hope it isn't ... " and it was, which was boring really. The Doctor and Steven's reactions to it also left me wondering why they even bothered. Nothing wrong with it being in the story, but I felt the lead up to it, was too much; like telling everyone they are going to love your joke and then being the only one to laugh at it. This same reveal could have been done far more effectively without building up expectations.

On the plus side the mechanics of orbital manoeuvring gave Steven a rare chance to use his expertise and surprise people. Oliver is working out well as the second companion and I think the next episode will be worth looking forward to.

I think I was also thrown by the similarities part of this story had with "Space Pirates" an awful original episode I recently listened to. This one had much better special effects.
Review By
komodo
2/20/14 3:35 pm
1 out of 1 found this review helpful.
Fungibility means that this audio is of equal value to any other in the range, so it seems there is no point giving this a score.

I will says it is top quality in a number of ways; for starters you never lose interest. The script flows so well and it feels like a full cast production. Sound effects and music add to the feel of the 60s, but also keep your attention rather than losing it.

Peter Purves does a perfect First Doctor as always. This begins immediately after the Dalek Masterplan and Steven is still getting over those events, so a trip back to the 60s is perfect as therapy for him as well as being entertaining to hear him talk about portable rain shields and silver tokens to get on busses. Steven's culture difference is always good for a laugh, but it doesn't get in the way of the story.

The villains of the piece are entertaining. There is something lovable about the evil business class: The Slitheen, Sil, Ferengi and so on. People with no real morals only interested in turning a profit. Here we have stuffy top hat wearing mushroom people with contracts and deals and the wonderful word "Fungibility". They seems unbeatable as they have the law on their side; not just the galactic law, but the local law as well.

Then there is Oliver, a new companion slotted in to a suitable place in Steven's history. He has a secret, but that doesn't get in his way when he needs to do the right thing. Side by side with Steven will give some great opportunities for action and adventure. Tom Allen plays him very well.

I'd give it full marks, but it is of equal value to any other Companion Chronicle and can be freely exchanged for any other or replaced by any other. Just love that word "Fungibility"