1 out of 1 found this review helpful.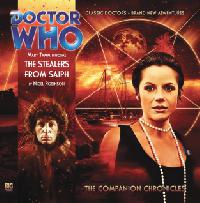 7
Reviewer Says:
No previous stories required.
The Stealers from Saiph is another story I thought was better than its reputation would have you believe. Granted, it isn't one of the classics of the range, but there is still a lot to enjoy.
Because the entire story is told by Romana, with no second voice added, this release is probably closer to an enhanced audiobook than most Companion Chronicles. Having said that, Mary Tamm carries it extremly well. She makes all the characters very easy to distinguish and knows exactly how to perfectly pace her reading.
Some parts of the story are a little slow and the Doctor is rather generic, but on the plus side there are a number of interesting and likable supporting characters and a highly evocative setting. The sound design is simply beautiful, with lots of lovely detail, which makes for a very atmospheric production.
Not the most exciting or innovative release, but an enjoyable listen none the less.
Review By
komodo
7/9/14 11:04 pm
4 out of 4 found this review helpful.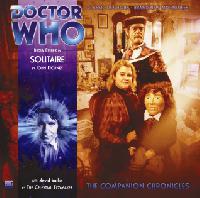 10
Reviewer Says:
No previous stories required.
The level of frustration experienced in this story rivals that in Abbott and Costello's "Who's on First" You can really feel what Charlie is going through and later you can feel how that same frustration is affecting the Toymaker himself. Its an outpouring of real emotion in a well presented difficult scenario.

That takes good acting and very good writing.

Its a bit of a cheat to call it a Companion Chronicle as it is better described as a full cast audio with only two characters, yet it does serve to put Charlie in the lime light and show a story that is hers rather than the Doctor's. It is very Doctor-lite, more-so than most CCs.

There is no indication of when it is set. Could be anytime that 8 and Charlie are together, though I would suspect before Neverland.

Its very easy to listen to as well, very easy to picture the scene and the characters and to experience it all in your mind.
Review By
MTL
6/20/14 6:08 am
3 out of 3 found this review helpful.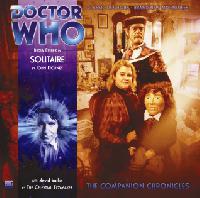 9
Reviewer Says:
No previous stories required.
A very enjoyable two-hander which is carried effortlessly by its actors. Potentially an ongoing game between Charley and the Toymaker could be dull, but Dorney's script, Briggs' direction and its leads make it gripping, entertaining and genuinely surprising. In the interview at the end of the CD, it is suggested Charley is a sort-of surrogate Doctor.While not inaccurate, it does a disservice to the characterization of Charley who shows once again how fierce and determined she is in getting what she wants. Pairing her with bailey's beautifully menacing Toymaker also reveals new depths as she is faced with a villain that is determined to frustrate her.

A really entertaining story which isn't massively groundbreaking, but it has enough innovation and intrigue to make it a worthwhile listen.