1 out of 1 found this review helpful.
6
Reviewer Says:
No previous stories required.
"And that sunset is just screaming out for someone to ride into it" The Doctor and Amy travel to the American West during the Civil War period in order find an important alien artefact. This seemingly simple quest quickly turns into a mad chase across the Wild West. The story is entertaining enough, with some colourful supporting characters, but overall it is just a little too predictable and by-the-numbers.
The way Matt Smith switches between British and American accents seems completely effortless and he brings this tale to live splendidly. He doesn't in any way attempt to do an impression of Amy, but since she isn't particularly at the fore for most of this adventure, this doesn't matter very much.
All in all, The Runaway Train is a nice little excursion into the American West; not overly exciting, but very listenable none the less.
2 out of 2 found this review helpful.
10
Reviewer Says:
Previous stories required!
While the fourth doctor has left Hexford in the Tardis, Mrs Wibbsey gets a visit from Captain Yates, the second doctor and other UNIT members as they prep for an alien invasion. The series started well the first two episodes were enjoyable, the third was terrible but this part of the story gets the series back on track and then some. The interaction between Mrs Wibbsey and the second doctor are wonderful as she does trust him or his actions. Mrs Wibbsey does a lot of the narrating in this story and she does it brilliantly. Great cast, great story, highly recommend this one!
0 out of 1 found this review helpful.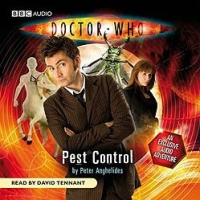 5
Reviewer Says:
No previous stories required.
The story is narrated by David Tennant and features the 10th Doctor and His companion Donna Noble. The story is well told and starts great but get confusing fast. May need a second listen but found this one hard to follow and too busy. David tried his best to impersonate Donna to bring her character to life by loses her through out the story.

Disappointing story!