2 out of 2 found this review helpful.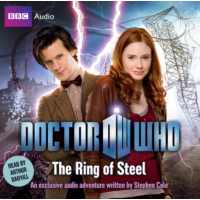 6
Reviewer Says:
No previous stories required.
The Ring of Steel is a fairly straightforward Doctor-saves-the-Earth-from-alien-take-over-story. The premise of electricity pylons coming to life is probably a little over the top, but in this setting it kind of works. Plus, I always like it when Doctor Who writers pick out something everyday and try and make it scary or dangerous, so I just went with it.
The explanation as to why the baddies had the Doctor brought directly to their secret base of operations wasn't very convincing. It just felt like they had to speed up procedings, because there were only about 75 minutes available to tell this tale, so some of the finding-things-out part of the story had to go.
The music was a little overpowering in places, but on the whole the sound design was quite good. We get some lovely details like the crackling of electricity and the baddies speak with a slightly modulated voice.
It is a bit weird to have one of the regulars narrate when his character isn't actually in this particular adventure. That said, Arthur Darvill is quite a good reader. Occasionally his way of emphasising. Every. Single. Word. works slightly against the flow of the story, but overall he is very engaging to listen to. He has got a great array of different accents and voices, so it's very easy to tell all the characters apart and to get fully immersed in the adventure.
The Ring of Steel isn't the most original of Doctor Who releases, but as a straight-forward little excursion to the Orkney islands it is quite entertaining.
Review By
Stevo
8/14/14 7:33 am
4 out of 4 found this review helpful.
This book is a lot longer than most of the other BBC Eleventh Doctor novels, being the second of the Doctor Who Eleventh Doctor 'special releases' written by known authors and aimed at an older audience. This audio-book version runs to around six hours and Michael Maloney gets to grips with bringing the characters to life that the time just flew by listening to it. However, it is a lot more traditional than Michael Moorcock's Eleventh Doctor novel that preceded it, and this book is definitely more like classic Doctor Who than 'The Coming of the Terraphiles'!

As a fan of classic-era Doctor Who the appearance of those (not-so) jolly green giants from Mars was a nice moment when it arrived. Although as two Ice Warriors are featured on the cover it wasn't actually a surprise! There's a lot more to this novel than just the Ice Warriors though. The plot is fairly straight forward; The Doctor, Rory & Amy arrive (by mistake of course) on a planet being terraformed and find that the colonists are having problems... and so another adventure begins. With plenty of action, humour, and some twists and turns along the way.

Dan Abnett has written a great Doctor Who story with lots of atmosphere. I thought this was more enjoyable than a lot of the Eleventh Doctor's TV stories. Which is a credit to Dan Abnett's ability to get the characterisations spot on, and tell a good story at the same time. It's not the most original Doctor Who story ever, but it is very entertaining. The Silent Stars Go By is now one of my favourite Doctor Who novels.

This audio-book version of the novel will not disappoint.
2 out of 2 found this review helpful.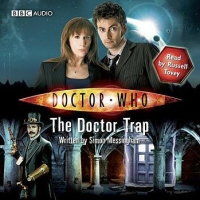 3
Reviewer Says:
No previous stories required.
Now this was a confusing listen. My main problem was that there are a number of moments throughout this release where I don't see how we get from A to B, which was rather distracting. Plus, there is a kind of doppelganger-plot weaved into the story, which was fairly hard to follow on audio. Since I haven't read the novel, I don't know whether the plot was originally written and constructed like this or whether the issue lies in the abridged nature of the audiobook version. I'm suspecting the latter, because the ending is brilliant, drawing all the different narrative strands into a satisfying conclusion. Unfortunately this was too little, too late for me, but it does show that there are some great ideas hidden in the confusion. So The Doctor Trap might actually be a good read in its unabridged version, but the audio edit is quite clunky. You get one scene stacked on top of the next, but the whole thing doesn't flow very well and the pacing is way off.
Simon Messingham doesn't really manage to evoke the spirit of this TARDIS team and a lot of the dialogue between 10/Donna feels rather awkward. Also, I didn't like how Donna was sidelined for a large chunk of the story. She isn't present for most of the first half and doesn't get much chance to shine in the second, which is a shame for such a strong character.
Russel Tovey doesn't capture the Doctor and Donna at all, which (again) didn't help my enjoyment of the story. That said, the rest of his narration was very good. He has got a pleasant reading voice and his take on Sebastiene was excellent.
One of the weakest Tenth Doctor releases, although it might work better unabridged and as a printed book. As an audiobook however, this really wasn't for me.