2 out of 2 found this review helpful.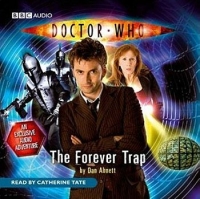 9
Reviewer Says:
No previous stories required.
The Doctor and Donna find themselves trapped in a weird residential building of luxury flats, after Donna falls prey to a highly aggressive marketing scam that has invaded the TARDIS. The premise of someone being lured into a trap because they have inadvertently signed a contract is vaguely familiar from a number of other (non-Doctor Who)stories, but I don't particularly mind, because the scenario is played out beautifully and very effectively in The Forever Trap.
Dan Abnett uses lots of vivid and intriguing imagery to create an instantly fascinating setting for his story. There is a wealth of imaginative detail which means the strange building and all the different alien races are easy to visualize. The depiction of the desperation, destruction and distrust amongst the different parties is very well written and immediately draws the listener into the story. Plus, Abnett gets the relationship between 10/Donna absolutely spot on and gives them plenty of great dialogue.
Catherine Tate brings this tale to life with an amazing array of different accents and voices. This makes it very easy for the listener to distinguish between all the different (supporting) characters. On top of this, Tate does an excellent impression of the Tenth Doctor, neatly capturing his speech patterns and vocal mannerisms.
The sound design is much more detailed than in most of the BBC audio originals I've heard so far. There are lots of little sound effects, like the ping of an arriving elevator or a shattering window, all of which really enhances the listening experience. Also, they don't just use the same piece of incidental music in every other scene, but actually offer a few different musical themes throughout the story. Those musical cues are used rather sparingly, but quite effectively.
Overall this is a very good production of an imaginative, well-written story that fits in perfectly with the feel of this particular TARDIS Team. Highly recommended.
1 out of 1 found this review helpful.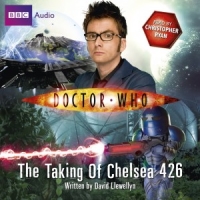 7
Reviewer Says:
No previous stories required.
The Taking of Chelsea 426 is a good, atmospheric story, with a strong and intricate plot, but unfortunately I didn't find it as immersive as I would have hoped.

For the first hour or so, there is very little in the way of actual plot development. The Doctor arrives on Chelsea 426 and slowly starts to get to know some of the people on the colony. While this might not sound particularly exciting, it is actually quite well-written and certainly never boring. The colonists clearly see their planet as a utopian paradise where everything is as it should be, whereas the listener will recognize the restrictions, dullness and the aversion to change underlying this society. This disparity creates an interesting build-up of tension and a great sense of creeping menace, but paradoxically, it also prevented me from really getting immersed in this story. The city and the people just don't seem properly alive. And it is very hard to warm to a society that is quite so joyless and to people who's only passion seems to be to keep out newcomers and to avert any kind of change. The only exception are Jake and Vienna, two children from the colony, who are likeable and pro-active and who decide to help the Doctor in foiling the alien incursion.

The action really gets going once the Sontarans arrive on the scene. From there on in, there are a number of clever plots and ploys on both sides of the fight to keep the story suspensful throughout. The Sontarans aren't portrayed as comedy alien warriors for once, which I found quite refreshing. I don't want to spoil any big plot developments, so I'm just going to say that there is a brilliant twist to the Sontarans' presence on Chelsea 426 that I didn't see coming at all and which drives a large part of the story.

Christopher Ryan delivers a nicely paced, engaging reading. Plus he is truely excellent at getting across the 10th Doctor's exuberance and manages to neatly capture his speech paterns, which makes this very enjoyable to listen to.

Overall, The Taking of Chelsea 426 is a great story that is never boring, but at the same time not quite as gripping as it probably should have been. Still, an interesting take on the Sontarans and some good plotting definitely make this a worthwhile listen. Recommended.
1 out of 1 found this review helpful.
9
Reviewer Says:
No previous stories required.
Judgement of the Judoon is set during the year of tv specials, so the Tenth Doctor is on his own when he arrives in the city-state of New Memphis, where he immediately becomes embroiled in an investigation into mysterious goings-on at the Elvis the King Spaceport. During his enquiries the Doctor teams up with Nikki, a teenage private eye, and "Jude" the Judoon to find out what is really going on at the spaceport. This rather strange trio could have turned out to be a bit naff or silly, but in fact they make for a surprisingly engaging and likable team.

There is a fairly big cast of characters and even some seemingly minor roles become important later on in the story. However, most of the characters are distinctive and well drawn, so it's easy to remember everyone's role in the overall plot. One of the main revelations was fairly predictable, but most of the twists - and there are quite a few - are genuinely surprising and work incredibly well.

Also, there is some lovely world-building in this story. Colin Brake paints a very vivid picture of the spaceport terminal as well as the entire city-state of New Memphis. All the locations just feel instantly familiar and lived-in, so you are completely drawn into this new alien world.

Events are told from a number of different perspectives. This is never forced or awkward and all the pieces fit together neatly, so there is a very nice flow to the storytelling.

Nick Briggs is a great narrator and he makes all the characters come to live beautifully. Whilst his Tenth Doctor impression isn't quite as spot on as his Ninth Doctor, it is definitely close enough for it to be highly enjoyable to listen to.

Judgement of the Judoon is one of my favourite Tenth Doctor audiobooks; it's a great story with lots of clever plot twists, many colourful and well-defined characters and wonderful narration. Highly recommended.