1 out of 1 found this review helpful.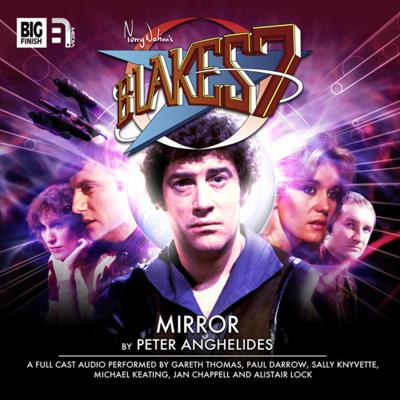 8
Reviewer Says:
Previous stories required!
This is another strong entry in Big Finish's 2014 "mini-series-set-within-series-B". Peter Anghelides has written a clear, thought-through script that gives all the regular characters a share of the action as well as one that feels like it fits seemlessly into the 1979 TV episodes rhat inspired it. All performances (including supporting characters) are excellent and the sound design and music are as near flawless as one might expect. The dialogue is sharp and contains lots of the sniping (liberally salted with one-liners) among the regulars that's familiar to the fans.

MIRROR shows us an unusually bolshy and bad-tempered Jenna who initially sounds like she's about ready to punch out Blake for not letting her loose on the planet Vere (easy for fans to guess who inspired this name) so she can avenge the death of her father by killing Federation Officer Space Major Kade. This is therefore something of a sequel to 2013's LIBERATOR CHRONICLE: EPITAPH and gives Sally Knyvette's often underwritten character a potentially interesting plot-line. That this is so hurriedly thrown away is a great shame, albeit sadly in keeping with the TV series' habit of sidelining the female Liberator crew-members. In this episode Cally and Jenna do in fact get to have a small adventure of their own, but it's the lesser of the 2 narrative sections and sadly amounts to very little. Essentially there's some running around and hiding on Vere and then a brief excursion in a rackety space ship. Although nice to have the women more active than the TV series allowed, it nevertheless feels like it was something of a missed opportunity.

Blake, Avon and Vila's mission to infiltrate the secret facility on one of the moons of the gas giant Stellidar Four is much more exciting and includes the introduction of a character who was occasionally mentioned but always unseen in the TV series: the President of the Federation. He's played with suavely understated menace by Hugh Fraser and is a welcome addition to the B7 universe. His brief appearances - added to the return of Brian Croucher's Travis - contribute to a building feeling that bad times are on their way for Blake's crew. In many ways MIRROR feels like it's Travis' episode as he is a serious inconvenience to our heroes throughout. The cliffhanger on which MIRROR ends might well be one of the character's strongest ever moments and leaves hopes high that COLD FURY and CAGED will build upon these solidly entertaining foundations.
Review By
komodo
6/30/14 9:08 pm
1 out of 1 found this review helpful.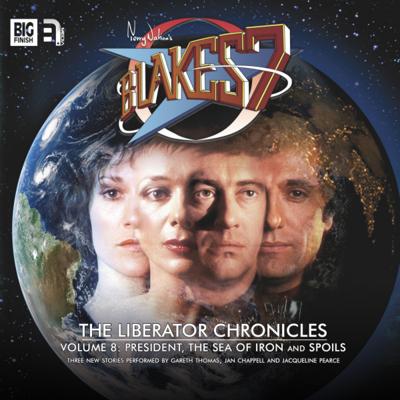 7
Reviewer Says:
No previous stories required.
I found the start of this to be both confusing and non-engageing and I came close to giving up. It was a good thing I kept going, as the second half was very strong.
It began with an awkward framing that involved Mani Yalleg, Cally's mentor from years earlier. The story was off to a poor start especially with the way Servilan was dropped into the story. By the end, this did resolve well as once again Cally and Servelan exchanged ideologies and danced their ever-dangerous dance; but then about half way through the story really kicks in as the two women head into dangerous space to "rescue" a lost Auron ship.
Jan Chapel and Jaqueline Pierce are both at their best in a story that gave them few chances to shine.
1 out of 2 found this review helpful.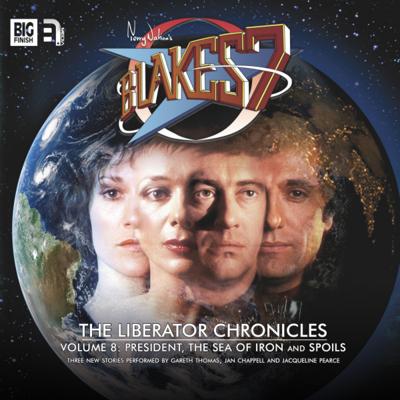 9
Reviewer Says:
No previous stories required.
Another outstanding LIBERATOR CHRONICLE from James Goss which gives a highly convincing answer to the question: "what if Blake had overthrown the Federation?" This being BLAKES 7 the answer does not include a peaceful, utopian society (as in STAR TREK) or happy endings, but does provide lots of interesting food for thought.

The way in which this alternative narrative is laid out is neat and economical. This set up is so good that it leads me to wondering if in LIBERATOR CHRONICLES yet to come (or even perhaps in full cast plays), the enigmatic aliens - the Dream Makers - who grant individuals the chance to look into simulated potential futures might be re-used. Although given the mean little twist at the end of SPOILS, perhaps it would be better if this were not the case as repeat appearances from the Dream Makers might cheapen their impact here.

Gareth Thomas gives a brilliant and fascinating performance showing us the many facets of Blake's conflicted character, going from idealistic rebel to heartless dictator who can give orders like "increase the levels of Pylene 50 in the dome air supplies - so what if some of them die..." As in THE HARD ROAD, he proves that with the right material he is an awesome actor.

SPOILS really is something special and ranks alongside PRESIDENT, THREE and INCENTIVE as one of the best of the CHRONICLES. The reason I'm giving it a 9, and not a 10 is because I thought it was something of a shame this was not a full-cast play. Jemma Churchill and Dan Starkey are decent actors and (mostly) recognisable taking over the parts of Jenna, Cally, Servalan, Vila and Avon. In fact you have to admire their range and malleability in taking on all these varied roles! But how much more emotionally resonant would it have been to have to have had the originals playing opposite this very different version of Roj Blake? Doubtless budgetary restrictions and availability of the actors were deciding factors and we should be grateful that SPOILS is as good as it is - but the experience of thinking (for instance) "Jacqueline Pearce would have been so much more chilling delivering those lines" weighed on me somewhat.