Review By
komodo
8/28/15 5:03 am
0 out of 0 found this review helpful.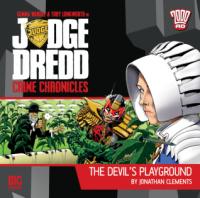 9
Reviewer Says:
No previous stories required.
The story is about the plainfolk and it establishes them by viewing Dredd through the eyes of Wendy. We learn about Wendy and her people without them directly being explained or introduced which is clever. There is some good writing in this and good acting as well from Gemma Wardle.

The story is actually quite simple and even predictable, but that doesn't matter as it is the vision and scenery that matters. The story is just there to give us the view of the Plainfolk and it does it well.

Through the first half I found myself being drawn into Wendy's world more effectively than any other Dredd story has done. I liked her character and I liked listening to her story.
1 out of 1 found this review helpful.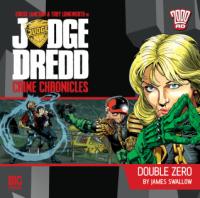 7
Reviewer Says:
No previous stories required.
Louise Jameson takes her first turn at Judge Dredd playing Psi Judge Anderson.

The story has some very predictable elements at its core. It's hard to imagine that they would introduce this character, have her lose all psychic power and have the story end that way and it's no surprise that they're back at the end of the story. However, we once again get a few new insights into Mega City One and it's use of psychics in this post-apocalytic world. The concept of "Think Easies" and Psychic thugs working for the mob? Very cool.

As for Louise Jameson, her performance was great. I love her as Leela, but it's nice to see how she takes on this different role and she does a great job playing someone who is a friend of Dredd, someone who knows that Dredd doesn't just have one expression-he has three. She's a very tough character,but the scared boy who is also a powerful psychic weapon brings out her more caring side.

Overall, I thought the series of Crime Chronicles offered a nice variety. We had stories told from a criminal, friend of a victim, Dredd's old partner, and one by Dredd himself. With the exception of the Devil's playground all were pretty good with Blood Will Tell being the best. It's a pity more weren't made.
1 out of 1 found this review helpful.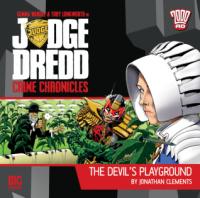 5
Reviewer Says:
No previous stories required.
This story is based on a solid premise. It imagines a commune (quite similar to the Amish) existing in the center of Megacity One and like today's Amish, they send their youth forth out into the world to see whether they liked it or whether they wanted to join the church. It's a fascinating premise but the story is hurt by the fact that the author loves it too much.

We see Wendy Plainfolk eating a hot dog when Judge Dredd arrives on the scene and then wham, we get twenty straight minutes of backstory telling us about this commune and how she got out and ended up at the hot dog stand. So we end up 1/3 of the way through the story with nothing have happened other than Wendy buying a hot dog and Dredd showing up.

The rest of the story has a few interesting moments, particularly Wendy's emotions when she sees Rita dead, but there's a lot of stupid stuff as Dredd continually drops Mega City One slang and technobabble on Wendy and acts like she's an idiot when she doesn't know it despite the fact she's never seen the stuff. Because of all the time spent on exposition, the actual story is only so so, with many shifts in moods that are sudden or exposition.

This is a good idea, but I can't help but thinking it would have made a far more interesting comic book where pictures could have more quickly set up the story. As it is, this release is mediocre at best.